21 Places to Visit in Europe
Planning ahead to better and sunnier times? Things are uncertain at present but we know how important it is to give yourself something to look forward to.
Our 2023 villa holidays are selling faster than ever, at a record 275% increase from the same time last year. That's why we highly recommend booking early, to ensure you get the best choice of villas across our entire portfolio.
We've drawn up a list of our top 21 must-see places in Europe in 2021 to give you some inspiration!
1. Discover Pula's Amphitheatre
Nestling on the southern tip of the Istrian peninsula in northern Croatia, the historic town of Pula is full of charm perfectly and captures that small-town appeal that draws in holidaymakers. The region's capital offers an enticing blend of Croatia's modern buzz with the atmosphere of ancient Rome. The latter is perfectly represented by the town's 1st Century Roman Amphitheatre, built from limestone and still playing host to concerts and festivals for up to 20,000 spectators to this day.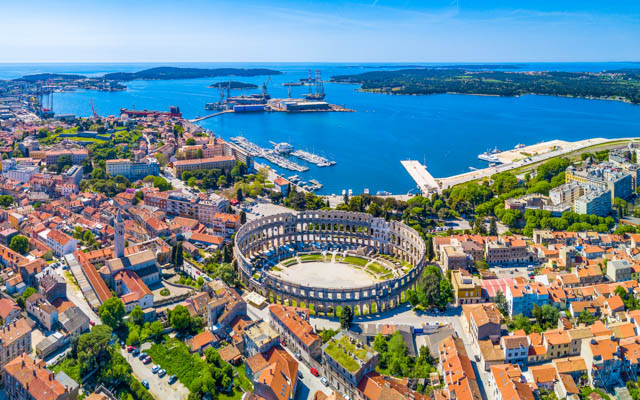 2. Visit Shipwreck Beach in Zakynthos (Zante)
The Greek Island of Zakynthos (also known as Zante) is home to a stunning shoreline of sandy beaches and verdant valleys. Undoubtedly the island's most-visited and most-photographed spot is the fascinating Navagio Beach (better known as Shipwreck Beach) located along the north-west shore. It's not fully known how the ship ended up here, but many theories suggest the MV Panayiotis was a smuggler ship and was forced to stop at the bay due to bad weather.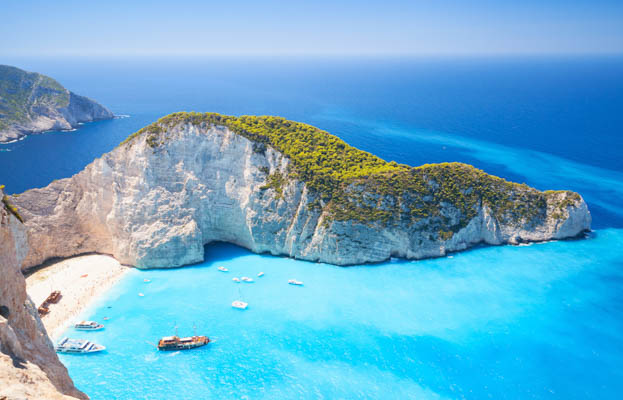 3. Explore Nerja's Caves
A trip to southern Spain isn't complete without an excursion to Nerja's fascinating caves. This popular seaside town in the Andalucia region transports you to the past with its 589 rock paintings and large rock formations. What's even more intriguing is that the art on display here is the oldest work of art known to man. If you're in Nerja in the summer months, be sure to check out the regular concerts and festivals that take place in the caves, a truly memorable sight to behold!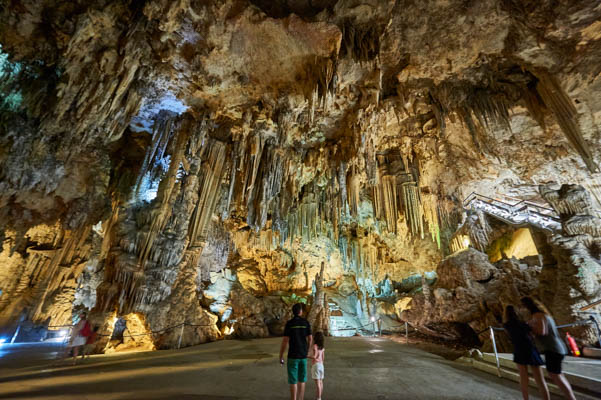 4. Climb Mount Teide in Tenerife
Teide lays claim to having the highest point in both the Canary Islands and the whole of Spain. Sitting at the centre of the volcanic island of Tenerife, this spectacular natural landmark can't be missed during your villa holiday in the Canary Islands. It'll take 4 or 5 hours to hike to the top, but if you're not feeling so adventurous, there's a cable car that will take you there in around 8 minutes – and the views are well worth it.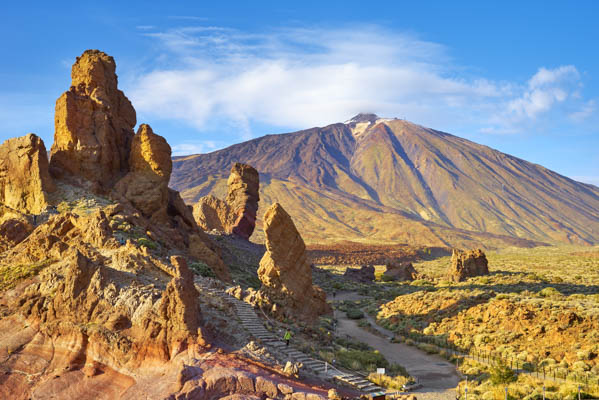 5. Explore the Lindos Acropolis in Rhodes
Another popular Greek Island is Rhodes or Rodos, the largest of the Dodecanese. Lined with blissful beaches and turquoise waters, Rhodes sets the scene for a truly relaxing getaway. That's not to say there's nothing to see here though, with both the UNESCO listed walled old town and 14th Century Palace in the north, and the magnificent ancient Acropolis atop the village of Lindos to the east. Starting in the town's narrow, cobbled streets, you can either walk or ride by donkey to the top and be greeted by fabulous views and staggering ruins of an ancient citadel.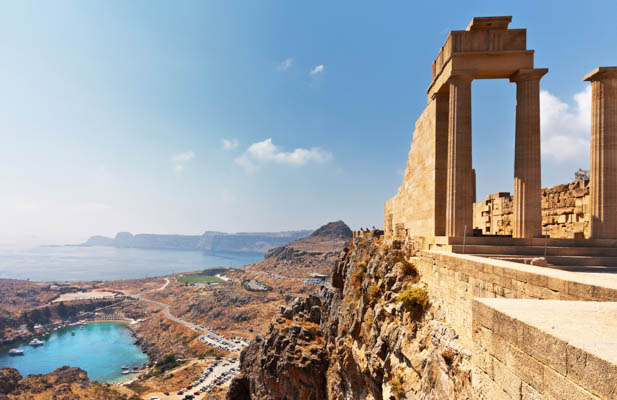 6. Discover the Serra de Tramuntana – Majorca's inner beauty
When thinking of Majorca, then beautiful beaches, an upbeat nightlife and shopping in trendy Palma might spring to mind. Whilst all those things make Majorca so great, it's easy to forget about the island's inner natural beauty and the breath-taking Serra de Tramuntana mountain range. Covering approximately 30% of Majorca's island terrain, this UNESCO World Heritage site can be explored in great depth, be it by car, on foot or on the saddle. Puig Major stands at 1445m and is the highest point in all of Majorca – why not head to the top and check out the view?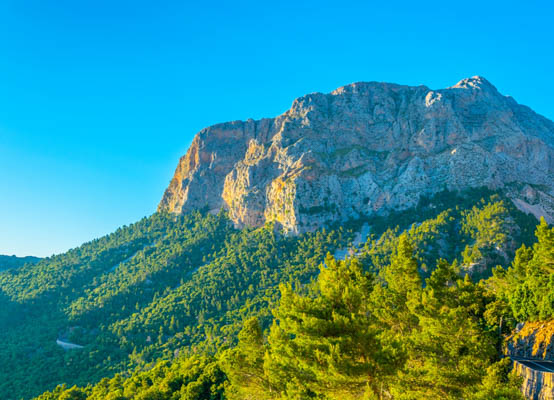 7. Uncover Historic Paphos – the birthplace of Aphrodite
Paphos is like a 21st Century holiday resort and historic ancient site all rolled into one. Situated on the southwest coastline of the Mediterranean island of Cyprus, Paphos is thought to be the birthplace of the Greek Goddess of Aphrodite when she rose from the sea and landed there. There's also the UNESCO Tomb of the Kings in Paphos, must-see Egyptian catacombs carved from solid rock which stretch back to Neolithic times.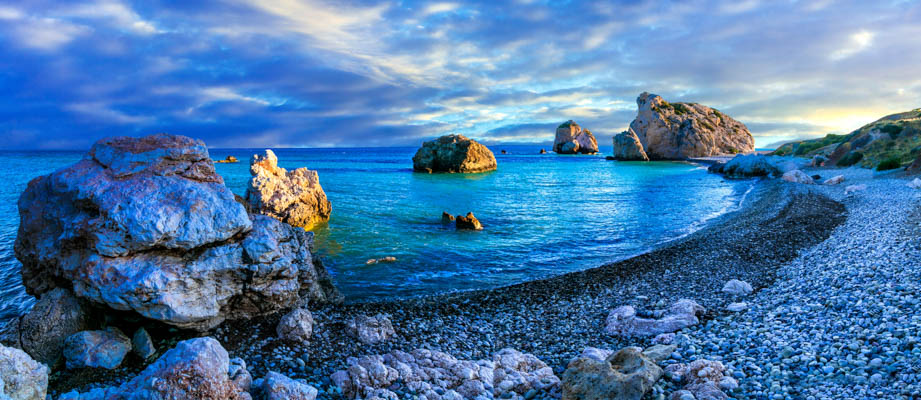 8. Explore Begur – the Costa Brava's hidden gem
Set around 90 minutes north of Barcelona along the Costa Brava's stunning and rugged coastline is the colourful medieval town of Begur. The town is home to an array of cultural delights, with narrow winding streets, sumptuous local cuisine and lovely little cove beaches. The focal point of Begur is its 11th Century castle, offering a pleasant walk around the grounds and scenic views of the region.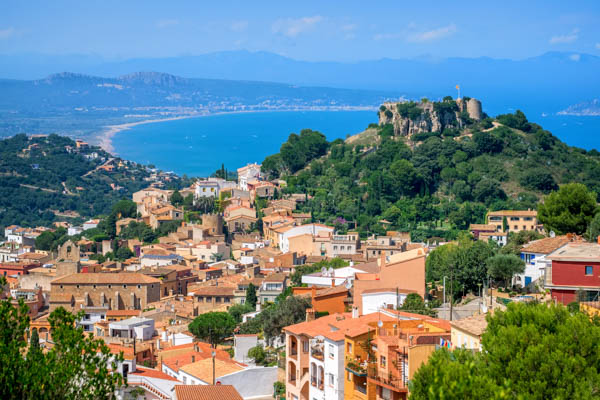 9. Unwind on Corralejo's sand dunes
Miles upon miles of near-white sand, crystal-clear waters and a stunning black volcanic landscape make Fuerteventura one of the Canary Islands much loved tourist spots. Stretching over 10km in the north of the island, the sand dunes of Corralejo are a fascinating and mesmerising sight to behold and are certainly an upgraded experience from any regular day at the beach! The area was designated a National Park in 1982 along with the small island of Los Lobos just off the coast of Corralejo, and the island draws in watersports enthusiasts every year thanks to its unique climate featuring strong winds, a true surfer's paradise.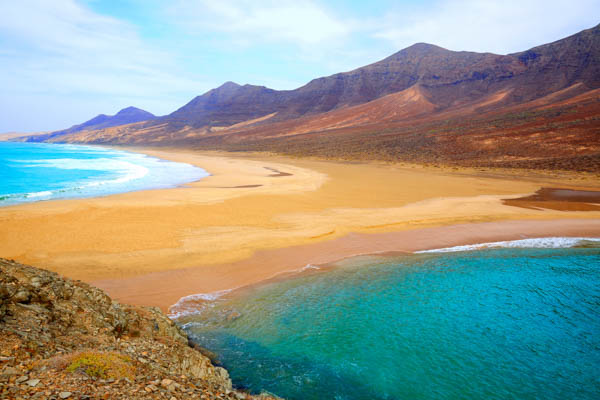 10. Swim in Nidri's waterfall in Lefkas
Back to Greece and to the delightful island of Lefkada (also known as Lefkas), home to untouched white sand beaches, picture-postcard seaside towns and traditional mountain villages. A holiday in Lefkas isn't complete without a visit (and a swim!) in the dazzling waterfalls near the village of Nidri. Cascading from a height of 15 metres into a cool natural pool below and surrounded by picturesque greenery, the waterfall is becoming increasingly frequent on holidaymakers' bucket lists!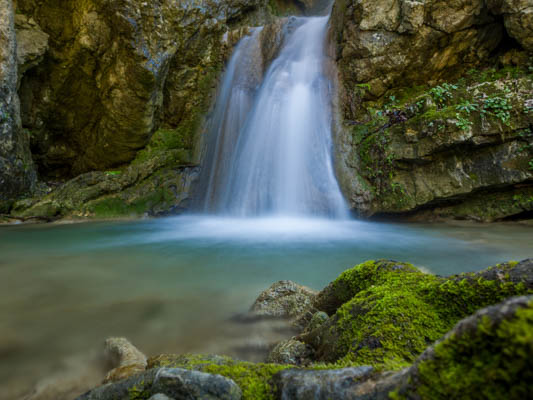 11. Walk along Menorca's Cami de Cavalls
Menorca is known as the more laid-back of the Balearic Islands, with less late-night partying and a lot more blissful beach hopping on the cards. Dig a little deeper and you'll truly be in awe of Menorca's inner beauty, which since the 1990's has been declared a UNESCO Biosphere Reserve. The best way to explore Menorca's landscape is by following the Cami de Cavalls, a path which encircles the entire island allowing you to uncover unspoiled territory, lush pine forests and limestone cliffs – be it on foot or by bike!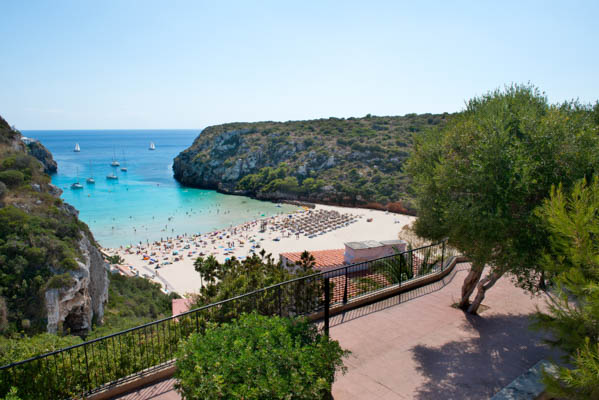 12. Be inspired by Praia de Marinha beach
Stretching along Portugal's southern coastline is the alluring Algarve region, home to bustling seaside resorts, pretty villages and award-winning golf courses. However, much of that is secondary to what many consider as the Algarve's star attraction: its beaches. Silky soft golden sands, azure blue waters and dramatic cliff formations make the scenery in the Algarve some of the best in Europe. Praia de Marinha is one of the most photographed and is even considered one of the 100 most beautiful beaches in the world.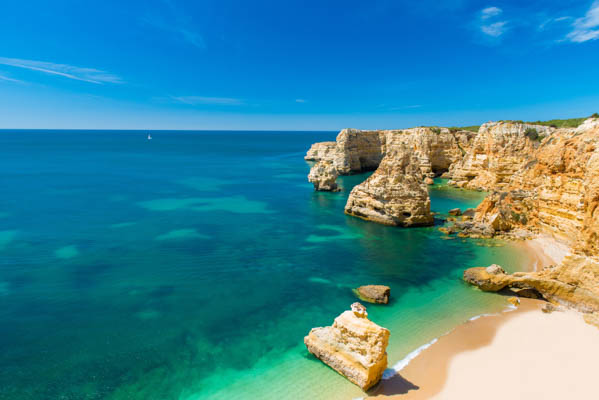 13. Potter around Kerkyra Old Town in Corfu
Corfu (or Kerkyra as it is known locally) is Greece's 'Emerald Isle' thanks to its simply stunning lush green scenery stretching from coast to coast. In the middle of it all is the capital and old town of Kerkyra, a UNESCO World Heritage Site. Immerse yourself in the hustle and bustle of the busy squares or get lost in the intriguing winding alleyways. The town is home to a fortress, an old citadel and plenty of colorful buildings full of elegance and charm – a compliment to its Venetian roots.
14. Walk along Dubrovnik's city walls
It's become symbolic of the cult TV series Games of Thrones over recent years, and it's easy to see why Dubrovnik is high on many holidaymakers' agendas. The terracotta rooftops of Dubrovnik's walled Old Town truly are a sight to behold, backed by dramatic cliffs and the Adriatic waves. Take a walk around the famous city walls and you'll get a flavour of the cultural significance of Dubrovnik, as well as plenty of photo-worthy opportunities along the way!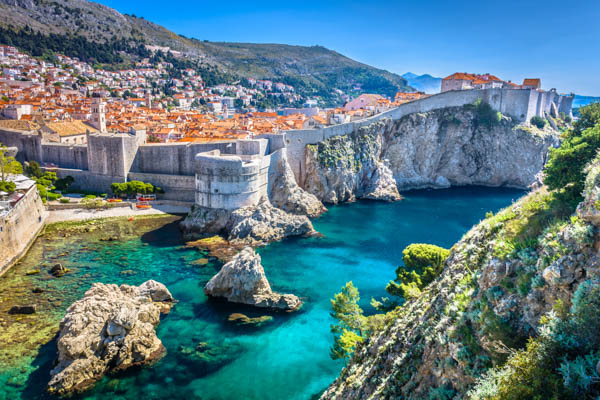 15. Hike up Calpe's Peñón de Ifach
No matter where you go or stay in Calpe, you're bound to catch a glimpse of the famous Peñón de Ifach, a limestone rock towering over 330 metres. Such is the magnificence of the rock, that it was declared a national park in 1987 along with its surrounding landscape. It's home to hundreds of species of animals and plants, and a hike up to the top is well worth it for the view that awaits.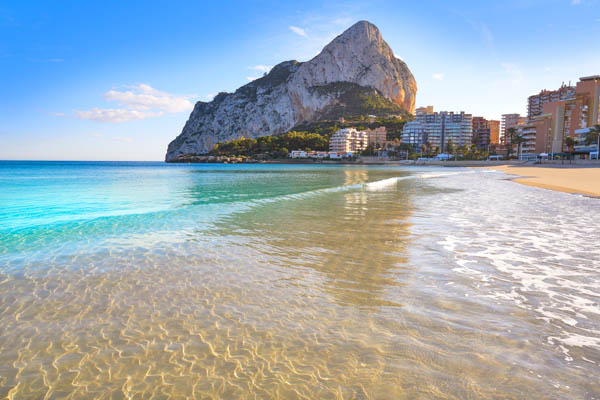 16. Visit the Blue Lagoon in Olu Deniz, Turkey
One of the most photographed landmarks in Turkey, the freshwater lagoon in Olu Deniz is a wonderful place to simply sit back and take in some of the most impressive scenery along the Aegean Coast. The lagoon is particularly famous for its varying shades of azure blue and turquoise waters, as well as its soft sands and impressive mountain backdrop.
17. Explore Timanfaya National Park in Lanzarote
Lanzarote's crater-like appearance resembles a well-known 'red planet' and Timanfaya National Park is certainly out of this world! Declared a UNESCO Biosphere Reserve, the park is home to breath-taking volcanic landscapes, solidified lava streams and black sand beaches. A visit here will allow you to see the active Timanfaya volcano itself, as well as enjoy walking and camel rides around the area.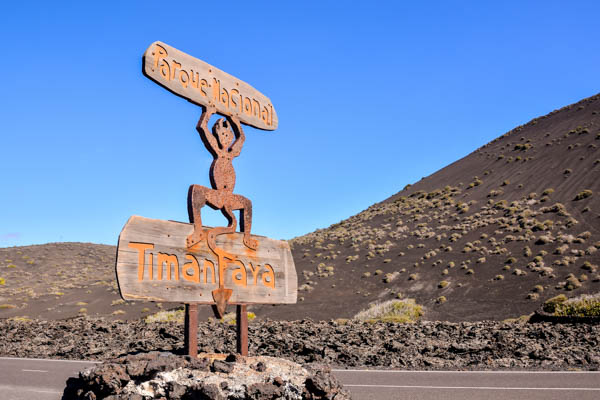 18. Walk the pink sands at Elafonisi Beach in Crete
When you think of paradise, not many places will come closer than the majestic lagoon at Elafonisi. Situated west of Chania on the Greek Island of Crete, the small lagoon separates the island of Elafonisi from Crete's mainland and features clear blue waters. What makes the beach so spectacular is the pinkish hue in the sand. In actual fact, the sand itself is white but gives off a pink colour due to thousands of broken seashells within it.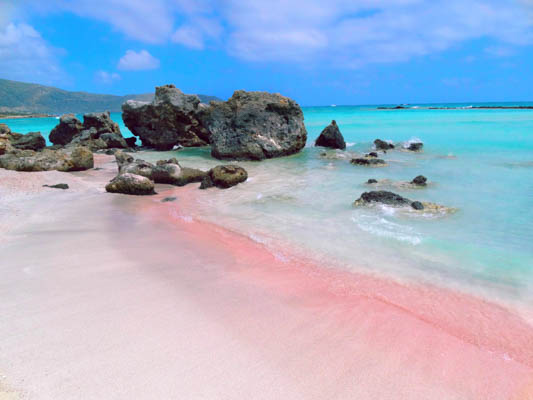 19. Explore the Costa del Sol's mountain villages
Many associate the Costa del Sol with golden sand beaches, chic marinas and bustling resorts. But there's another, more authentic side to Spain's southernmost region, one which you're bound to fall in love with. Whitewashed villages tucked away on the hillside offer a flavour of Spain's rich cultural past, with Moorish influences, narrow cobbled streets and local delicacies to tantalise your taste buds. Some of our favourites include the charming town of Estepona, as well as Mijas and the mountain village of Frigiliana.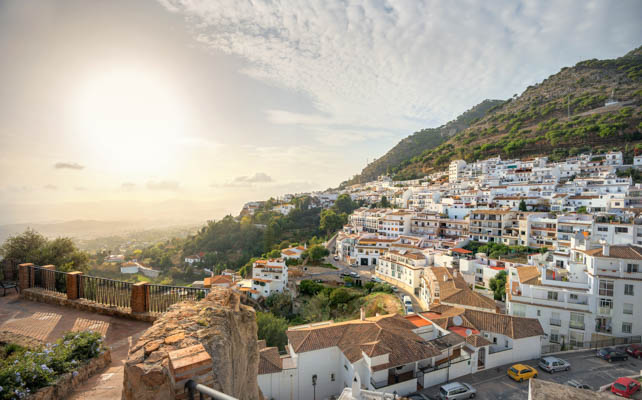 20. Visit the dramatic Myrtos Beach in Kefalonia
The Greek Islands boast a plethora of breath-taking beaches, so the fact that Myrtos Beach has been voted the best Greek beach a staggering 12 times really does speak for itself. Situated in the northwest of the island of Kefalonia, the beach is surrounded by huge limestone covered cliffs and boasts fine white sands and crystal-clear waters. The beach is also known as being the filming location for the film 'Captain Corelli's Mondolin'.
21. Swim in Malta's Blue Lagoon
We've already talked about the Blue Lagoon in Olu Deniz, and its namesake in Malta is as equally impressive. The small bay is actually situated on the west coast of Comino, Malta's small neighbouring island and gives off a real paradise-like feel. Many people flock here in the summer months to swim in the azure, calming waters which is perfect for snorkelling.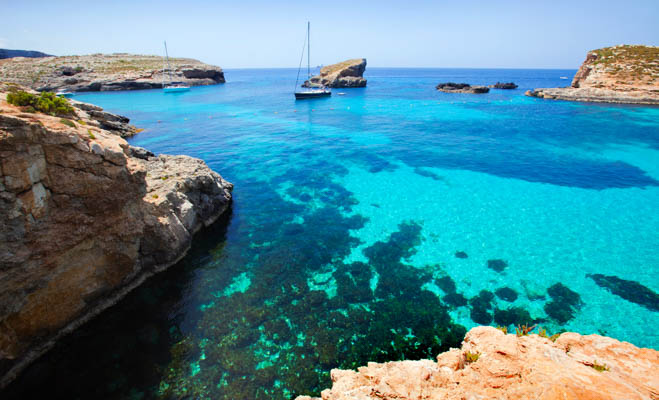 With so many exciting and intriguing new places on your bucket list, the only question now is where will you go? Thankfully our expert team are here to help. Why not start browsing our destinations for your 2023 villa holiday now and you'll be relaxing by your own private pool in no time!