Things to do in Fuerteventura
Whether it's exploration or relaxation you're seeking, Fuerteventura has got you covered. From thrill-seeking water sports to vast, volcanic landscapes, the second largest Canary Island offers the perfect blend of adventure and tranquillity, benefitting from year-round sunshine. Here are our top things to do in Fuerteventura: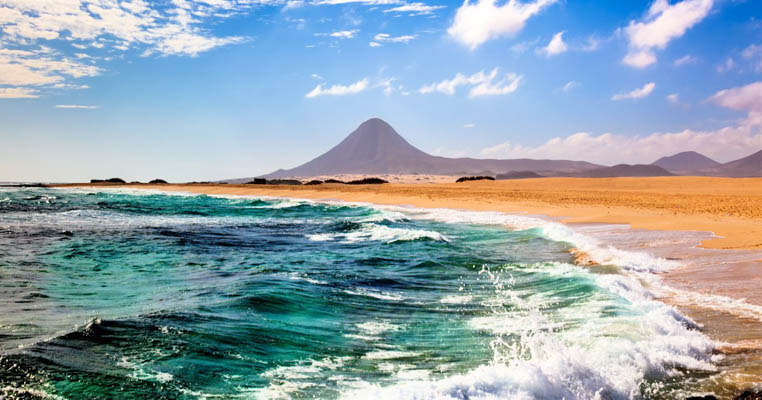 1. Enjoy the Climate
Fuerteventura sits in the Canary Island archipelago off the West Coast of Africa and benefits from an average of 3000 hours of sunshine a year. Thanks to its year-round pleasant climate, the island is referred to as 'The Island of Eternal Spring'. This makes Fuerteventura an ideal choice for not only those looking for a summer holiday, but also those in need of some winter sunshine.
2. Beaches & Water Sports
With mile upon mile of golden sandy beaches to explore, coupled with a huge variety of thrill-seeking watersports on offer, it's easy to see why holidaymakers return to Fuerteventura time and again. The tourist resorts of Corralejo in the north and Caleta de Fuste to the east are home to a variety of family-friendly, sandy beaches perfect for a day of relaxation. All around the coast you'll find ideal spots to put your water sports skills to the test, whether its surfing, windsurfing, kiteboarding or jet skiing! El Cotillo Beach on the west coast is popular for this, whilst Playa Sotavento further south plays host to the Windsurfing & Kiteboarding World Cup, a truly exhilarating spectacle!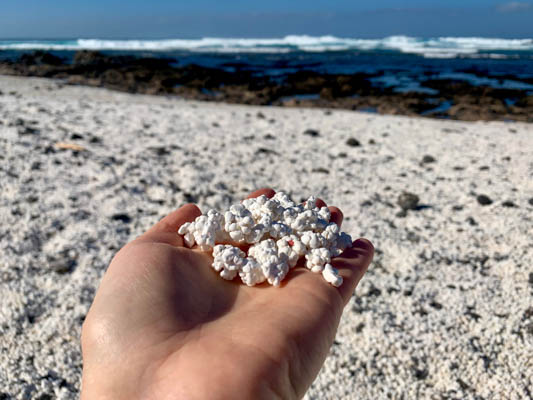 3. Explore authentic Canarian villages
Away from the mainstream tourist resorts you will find quaint towns and mountain villages which are full of Canarian charm. El Cotillo once again makes our list, and it's not hard to see why thanks to its unspoilt buildings and rugged coastline! The Northern town of Lajares is also well worth a visit and offers a local craft market. Further inland the villages of Pajara and Betancuria are home to ancient buildings and museums full of history and character, whilst all over the island you can stumble upon many picturesque, ancient windmills.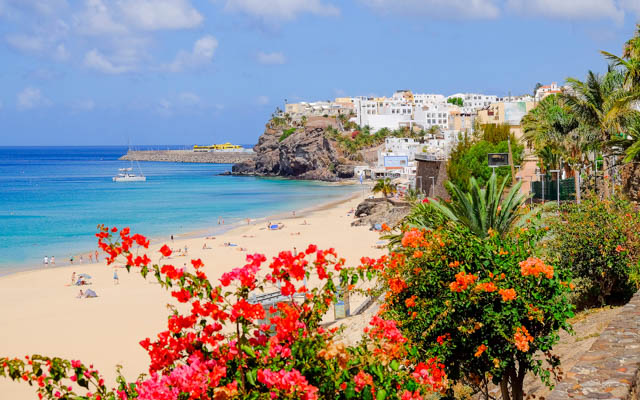 4. Visit the National Parks
With over 10 kilometres of unravelling sand dunes along the coastline, Parque Natural de Corralejo is a real natural gem of the Canary Islands. Miles of white sand, with contrasting black volcanic landscape and turquoise waters make this national park one of the most fascinating places to visit on the island.
The sand dunes were declared a Nature Reserve in 1982 along with the island of Los Lobos which is located just off the coast of Corralejo. This tiny island can be accessed via a short ferry ride, and is home to a large variety of fauna, flora and natural inhabitants – almost the complete opposite of Fuerteventura itself! There is a series of walking trails around this volcanic island and a small sandy beach for those wishing to sunbathe.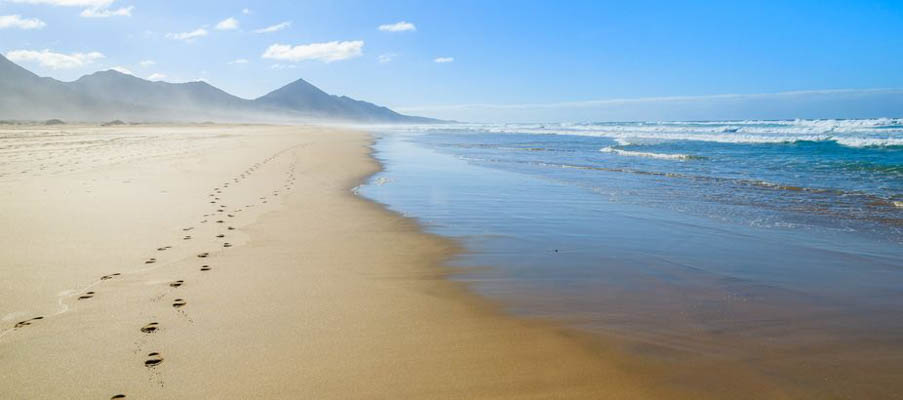 5. Play a round of Golf
Much like its neighboring islands of Lanzarote and Gran Canaria, Fuerteventura is a fantastic place to enjoy a round of golf or two. Year-round sunshine means you needn't worry about being rained off, and there's plenty of opportunities to lower your handicap! Fuerteventura Golf Club is close to the airport in the east of the island and has been cleverly designed to use the impact of the wind. It is the island's largest golf course and is adjacent to the sea forming a beautiful ocean backdrop. Meanwhile, Salinas de Antigua is located close to Caleta de Fuste and is landscaped with native vegetation, volcanic sand bunkers and several lakes.