Things to do in Menorca
Menorca has always been a popular destination, especially amongst Solmar customers, who return to the island year after year, making use of our loyalty club discounts (which applies to all returning customers).
With Menorca's historic architecture, mile long beaches and turquoise-watered bays, we're not surprised people keep returning. However, there's even more to Menorca than this, and experiencing another side to this magical island shouldn't go unmissed. Read on to discover some of our top things to do in Menorca.
1. Attend a Festival or 'Fiesta'
The summer months are packed with Menorcan fiestas (not to be confused with siestas) so if a traditional Spanish party is what you're after, try visiting from late June through to September during which time around 11 fiestas take place.
From June Menorca holds one of its most extravagant fiestas in Ciutadella – the fiestas of Sant Joan marks the beginning of the renowned fiesta season. The Menorcans love their horses and riders ride through the streets on their cherished horses during Saint Joan and various other fiestas – The atmosphere is vibrant and traditional while everyone dances to the music played by the live musicians which fills the streets. The Spanish are friendly and welcoming and anyone looking for a bit of Spanish tradition will thoroughly enjoy taking part. 
2. Ancient Ruins
 Visit some of the spectacular ancient ruins Menorca has to offer - our personal favourite is Torre d'en Galmes, which was abandoned when the Roman occupation ended.
The island is home to various historical sites from ancient ruins and monuments that date back as far as the Bronze Age from 2300BC. Many of these sites can be visited on foot and also by taking a Jeep Safari off the beaten track and into the more remote parts of Menorca. Here visitors can experience some of the most incredible historical landmarks some even dating back to the 18th century when the Britons invaded and ruled for the most part of the 18th century.
3.  Explore Menorca's inner beauty
Take a hike (or a gentle walk) along one of Menorca's many beach side paths, taking in the sea air and scenic views. We recommend Cami de Cavalls, located on the North side of the island.
If you enjoy outdoor activities such as hiking and exploring then you needn't look any further than Menorca. 40% of the island is protected since the 90's when it was declared a UNESCO Biosphere Reserve. Visitors to the island can explore much of the islands natural beauty and unspoilt territory made up of various shrouded footpaths, hidden terrain, limestone cliffs and pine forests on foot!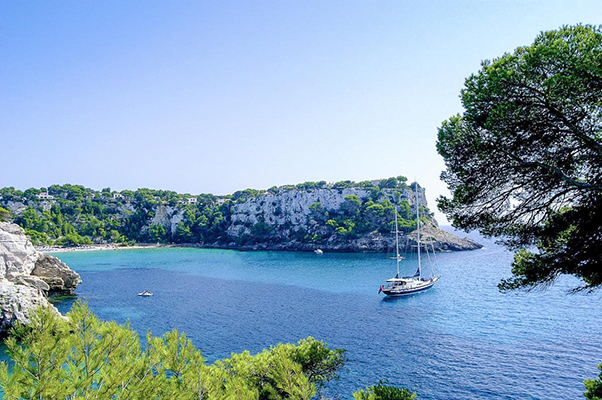 4. Discover the island's hidden gems
Get to know the Menorcan landscape with a jeep tour of the island, where you will discover hidden gems, such as caves, cliffs and deserted beaches. Menorca is known for its amazing sunny climate all year round and its home to over 100 unspoilt beaches due to the islands tight restrictions. Most visitors to the Island of Menorca probably don't realise there is a lot more to Menorca than its beautiful beach locations.
There is plenty of rocky countryside just waiting to be discovered on foot or by Jeep safari allowing you to explore the more secluded areas of the island's hidden charms – The Jeeps are usually open-top enabling excellent views whilst driving through the countryside. Jeep safari excursions take passengers to a number of hidden and unusual sights, they are the ideal excursion for tourists who want to explore that bit more and the Jeeps are usually able to take passengers to parts of the island that are not as easy to get to on foot.
5. Family day out at the Waterpark
If you're taking the kids (or if you're still a kid at heart) you have to take a trip to Aquarock, Menorca's best rated water park.
Enjoy a fun-packed family trip to Aqua Rock; Menorca's famous water park. Have a swim or splash amongst the simulated waves or enjoy a bit of relaxation therapy in the Jacuzzi. With a variety of tube rides, kid's pools and slides Aquarock really will keep the kids busy all day and if this isn't enough the park also has a karting track!
Want to know more about what to see and do on this tranquil island? Read our blog on the top 5 activities to do in Menorca.