Things to do in Istria
Whether it's the captivating Game of Thrones tours in Dubrovnik; the vast iconic national parks to explore across the mainland; or the array of islands scattered across the Adriatic Sea – Croatia has spectacularly established itself as one of Europe's hottest travel destinations. And with stunning coastline, exquisite beaches and a warm climate, it's easy to see why.
But what about Croatia's more hidden gems?
Despite its increasing popularity, Istria oozes authenticity with unspoilt landscapes, providing something for every traveller.
So, why is Istria the place to visit next in Europe? Here are our favourite things to do in Istria:
Why choose Istria?
If it's not its 250km of coastline overlooking crystal-clear waters or the abundance of dense forests, rolling hills and beautiful nature to explore – Istria's historical charm is sure to captivate and ensnare any traveller's heart.  
Whether it's a family friendly holiday, a relaxed romantic getaway or a cultural hotspot holiday you're after – Istria has it all. Discover our top 10 reasons to travel to Istria:
1. Pula's Amphitheatre 
Uncover the wealth of Roman architecture nestled in the city of Pula, with the well-preserved 1st century Roman Amphitheatre as the star attraction. Dominating the bustling streets of this lively Istrian city, the limestone-built amphitheatre, which originally hosted gladiatorial contests, is the ultimate venue for summer concerts and festivals and it can hold up to 20,000 spectators.
Rich with antiquities and home to half of Istria's population, Pula is renowned as an urban city on the sea - perfectly capturing the friendly small-town appeal that draws in holidaymakers. Whether it's exploring the Cape Kamenjak nature park or the copious beaches a short bus ride away, Pula offers the perfect escape for any traveller – whether it's a couple's holiday, or a family getaway.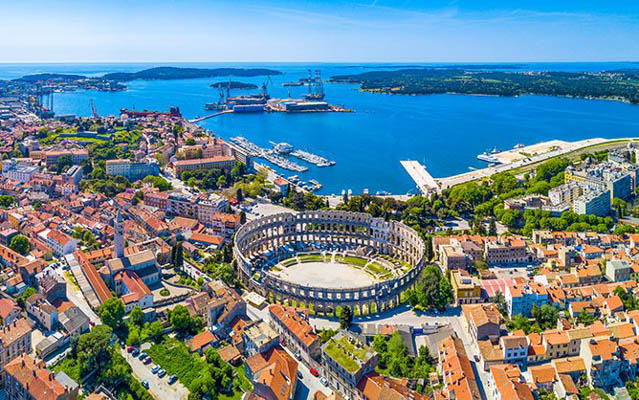 2. The Hilltop Town of Motovun
Located on a small hilltop in Istria, Motovun overlooks River Mirna and is a renowned among foodies as a hotspot for truffle hunting. Whether it's olive oil tasting in the heart of the town or biking in the annual MTB bicycle race every September, there's ample opportunities to embrace the Istrian culture through your visit to Motovun. And with activities such as the Motovun film festival to enjoy by day and restaurants and bars to relax in by night, this quaint hilltop town has something for everyone.
3. Buzet's Truffles
Known as the "Truffle Capital" and situated in the heart of the truffle country – Buzet is a city which is renowned for its truffles. But when is the best time to go? Early September, the Virgin Mary's birthday is celebrated, and the town of Buzet prepare a giant omelette filled with Istrian truffles to celebrate in the town square. Alternatively, the first Friday and third Thursday of the month host the local fair which showcases Istrian products – perfect for sampling some of the world-famous truffles of this quiet but charming town.
4. Pazin's Chasm
Discover an 100m-deep abyss – home to Istria's largest underground river; the Pazinčica River. Three underground lakes form to create an eerily magnificent underground water world. Walk the winding 1.3km around the natural canyon while admiring the shadowy depths of the chasm below.
This Istrian must-see attraction is said to have inspired the imaginations of many Croatian writers, including Jules Verne and his famous novel 'Mathias Sandforf'. And if the descent into the abyss doesn't appeal, don't worry – there's an easily accessible viewing point just outside the Pazin castle, one of Istria's most well-preserved medieval forts, meaning there's something here for every member of the family. The canyon and ravine are protected natural landscapes due to their extraordinary beauty and natural features, making this one not to be missed!
5. Poreč's Basilica
Discover a city which combines exuberant history with a modern-day twist – Poreč holds host to the Byzantine art 6th century Euphrasian Basilica. Admire beautifully colourful mosaics that complement the sacred buildings from as long ago as the 3rd century.
This World Heritage Site captures Roman times elegantly – with fragments of the Roman forum, Marafor, as well as medieval walls surrounding the city of Poreč. Enjoy the medley of Gothic, Romanesque and baroque buildings by day, and the lively atmosphere of the nightlife by evening – with Poreč having been recently established as a hotspot for young partyers.
Did you know...Throughout history, Istria has belonged to many rulers - but has always remained Istrian and Croatian. In 1920, Istria was annexed to Italy, and after World War II, Istria was returned to Croatia.
6. The Brijuni Islands
Made up of two main pine-covered islands and 12 islets, the Brijuni archipelago is a desirable Istrian destination – and well worth visiting. Officially pronounced as a National Park in 1983, you can marvel in meadows, parks and forests with a wealth of nature to explore at every corner.
Veli Brijun – the largest island of the Brijuni archipelago – can be reached by Fažana, which usually includes a guided tour and entry to various sights of the islands. Legend states that the Brijuni Islands are known as 'heaven on earth' – and with their exquisite waterscape beauty, pebbled shores and crystal-clear seas, it's easy to see why. Perfect for taking a romantic tour around the islands or getting the whole family involved in an island-filled day-trip!
7. Pula's Lighting Giants
And for an evening attraction not to be missed? Pula's magnificent lighting display showcases over 16,000 different colour schemes through a 15-minute showing, every hour. Located at one of the world's oldest working docks – the 19th century Uljanik shipyard – the illuminating lights begin their performance lighting up the skies from dusk until 10pm, and until midnight in summer months.
This immense show is designed by Dean Skira, who sets out to light up the shipyard's classic cranes in a unique way each evening. Having created a staple characteristic of Pula, and an attraction to ensure is on your Istria travel bucket-list, this show is perfect to experience with the whole family.
8. Historic Vrsar
A quaint hilltop village home to a wealth of history, Vrsar is a direct link to Old Times. Wander through abandoned Roman quarries and the old fishing towns while admiring one of Istria's most beautiful archipelagos – with 18 uninhabited islands in sight from the mainland. This tourist town oozes ancient history, while being known for exporting Istrian rock from its harbour. Experience a preserved Mediterranean atmosphere with narrow stone streets and intimate small squares waiting to be discovered.
9. Istrian Cuisine
With evident similarities to Tuscany – through ample vineyards, olive groves and medieval hilltop towns – Istrian cuisine famously harnesses the tastes of Italy too:
Truffle hunting – initially discovered by accident by local farmers, truffles weren't always deemed as high enough quality to be on your dinner plate – having them as the pig's dinner instead for many years. Now, black and white truffles are found here – and are Istrian's speciality, with Istria being the only place white truffles are found outside Italy.
World's finest extra virgin olive oil – Istria has been recognised for several years as the region with the most top-quality extra virgin olive oil producers in the world. And if you book in advance, many Istrian olive oil producers offer taster sessions – from detecting herbal or fruity notes to tasting the spiciness or bitterness in the oil.
Fresh Adriatic seafood – with the Adriatic Sea surrounding this heart-shaped peninsula, 400 species of fish live in the waters – providing an eclectic selection of seafood to sample. The main fishing ports are Fažana, Novigrad and Rovinj and you can expect to choose from sardines, scampi or shrimp to spider crab, octopus and sea urchins.
10. The Fishing Port of Rovinj
Described as 'the perfect postcard', the charming sea town of Rovinj is a must-see when visiting Istria – and thought of as Istria's star attraction. Whether it's exploring the breath-taking views of the surrounding islands; meandering down narrow cobbled streets and small town-squares; or admiring paintings exhibited on the stone walls of Grisija Street – Rovinj is the perfect escape from daily life. With its intense charm and character, enjoy a historic insight into Istria with St Euphemia's Church – the largest baroque church in Istria – dominating the town from its hilltop location and 61m high bell tower.