Things to do in Majorca
Famed for its blue skies and pristine beaches, Majorca has so much more in store for you. Averaging 300 days of sunshine every year, the island is alive with colourful fiestas throughout the summer, while Palma is a shopper's paradise at any time of year. Featuring amazing architecture, magnificent mountains, stunning underground caves and more, Majorca holds a surprise for everyone. Here's a handy a guide on things to do in Majorca: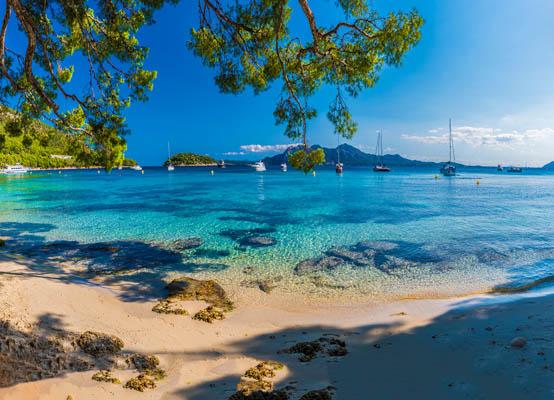 Majorca: An Introduction
Mallorca or Majorca?
The local spelling for this popular sun-drenched island is 'Mallorca' and only the British and Irish use the alternative spelling "Majorca". The term Mallorca comes from the Latin phrase 'insula maior' meaning 'larger island' whilst it's neighboring island of 'Menorca' means 'smaller island'. Both are part of the Balearic Islands alongside Ibiza and Formentera. 
Where is Majorca? 
If you have ever asked the question where is Majorca? You certainly won't be the only one asking. Many are confused by the exact location of this stunning destination. Majorca Island is shown alongside the islands of Menorca and Ibiza on the Balearic Islands map. The Balearic Islands Map should answer part of the question; where is Majorca? But here's a little insight - Located off the coast just east of Mainland Spain the Balearic Islands are an archipelago (group of islands) and live on the Mediterranean Sea. The map shows quite clearly the difference in size between 3 of the main Islands. Majorca Island is the largest of the Balearic Islands and an extremely popular holidaying destination, just a short flight time from the UK. 
Balearic Island Holidays
Majorca Island enjoys a beautiful Mediterranean climate with an average temperature of around 21°C along the coast. On average Mainland Spain and the Balearic Islands catch more than 300 days of sunshine throughout the year. The short flight time from the UK and heaps of sunshine throughout the year makes Balearic Island holidays a popular concept for the Brits with thousands flooding in each year to soak up some of the beautiful Mediterranean sunshine. 
Check out our huge selection of villas in the Balearics, Not only do we offer villas in Majorca but we also have an extensive range of villas in Menorca and Ibiza too.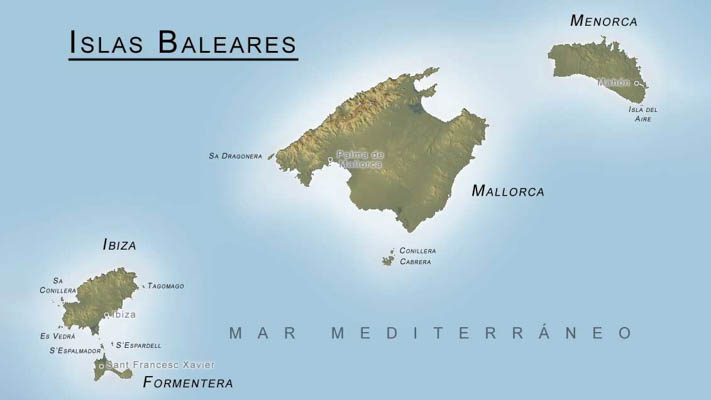 Discover The Real Majorca Island
So, what are the best things to see and do in Mallorca?
The Santa Maria Cathedral in Palma
Better known as Palma Cathedral is one of many Majorca attractions in Palma City. Palma City; also known as Palma de Mallorca is the capital and home to a plethora of sightseeing and shopping opportunities. The world renowned Palma Cathedral is an exceptionally proud icon of not just Palma City but Majorca Island as a whole. Time should be taken to explore the Palma Cathedral grounds; this magnificent Majorca attraction is one not to be missed as it just as impressive inside as it is outside. Why not hop on a bus into the Palma City Centre? The astounding Palma Cathedral is one of the first things you'll see when you get off. A Majorca attraction definitely worth visiting.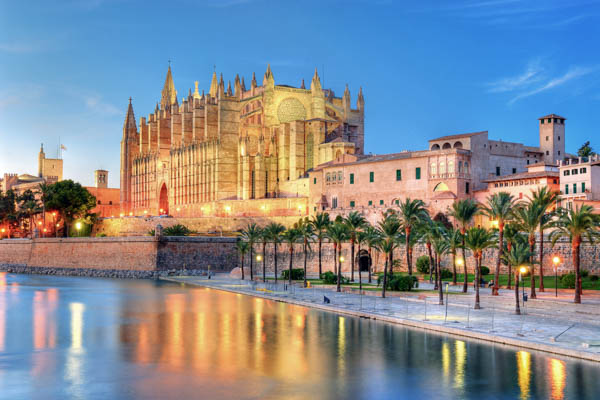 Serra de Tramuntana Mountains
The Serra de Tramuntana is amongst the most visited Mallorca attractions and the fascination with these beautiful mountains in Tramuntana is obvious! The mountains of Tramuntana overlap the island's North-West coast and take up around 30% of the Majorca Island terrain. The landscapes here are truly awe-inspiring and exceptionally mind-blowing. This superb UNESCO World Heritage site is a Mallorca attraction at its rawest and finest and deserves to be explored in great depth. The Serra de Tramuntana are a must see if you're visiting the Island. Hire a car and travel along the long winding roads as far up as the highest peak which is Puig Major at 1445 metres high it's the tallest Mountain on Mallorca Island and the views at the top are incredibly breath-taking!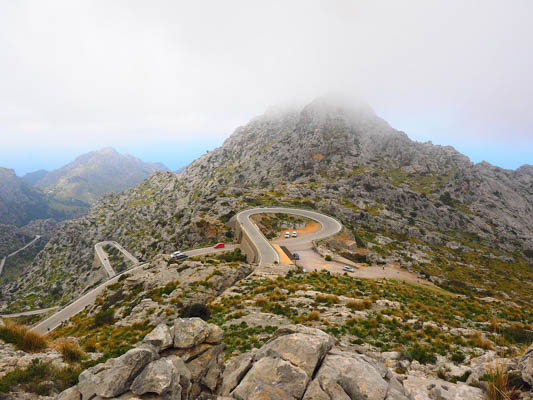 Cuevas del Drach 
Thee Cuevas del Drach on the east coast of Majorca is a site which is just as impressive and worth a visit if you looking to explore Majorca Island and it's remarkable and authentic sites. The Cuevas del Drach is a remarkable cave system that boasts a selection of huge stalactites, stalagmites and glistening underground lakes. Another addition to the list of famous Majorca attractions the Cuevas del Drach is absolutely fascinating and a trip to these extraordinary caves will be both educational and truly enjoyable for all ages!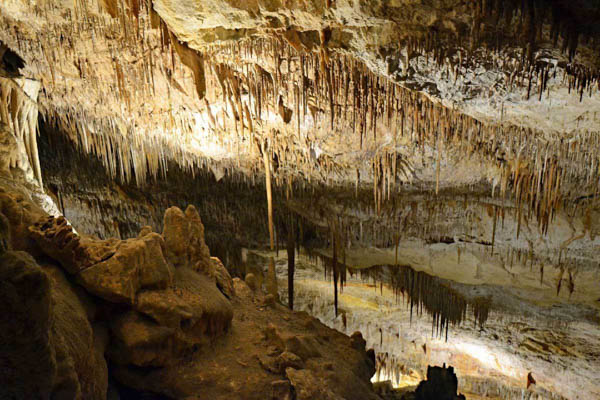 Sobrasada, A True Taste of Mallorca
If you want to experience Mallorca in true depth then head out to the local store or bistro and order yourself a Sobrasada sausage. This tasty treat originated from Mallorca Island and is made up of pork meat from the black Balearic pig which is the only meat that can be used in order to give the Sobrasada its authentic label (Yes there are fakes – to be a true Sobrasada sausage the label attached must read 'Sobrasada de Mallorca de Cerdo Negro').
The Sobrasada has a softer texture to chorizo and is combined with seasoning – It can be eaten on its own but many choose to spread it on toast or flatbread. It is also used to flavour various other Mallorcan dishes, making it a popular food amongst the locals. For a true taste of Mallorca Island the Sobrasada sausage is a must. If you try it and love it you can always come back and purchase the Sobrasada from your local UK supermarket!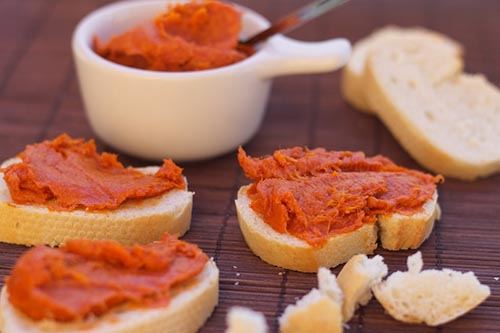 Shopping in the Capital – Palma de Mallorca
Palma de Mallorca is the hub of shopping on Majorca Island with 2 major department stores and an array of high street and designer boutiques. The Islands largest shopping mall, FAN opened in Palma de Mallorca recently in 2016, just a short distance from the airport and a few minutes' drive from Palma City Centre.
Old Town Alcudia is also a shopping haven on Majorca Island especially for those who like to enjoy a bit of culture as they browse. Check out Solmar Villas' beautiful range of villas dotted around Alcudia and start planning your perfect Mediterranean holiday.
Majorca Island boasts shops of all types of  from designer boutiques in Puerto Portals, Port Adriano and Port d'Andratx to more affordable fashion and gift shops which sell all kinds of gifts and souvenirs in Cala d'Or, Alcudia and Pollensa. But if you're a true shopaholic and you could easily spend a day shopping spend it in the capital. Palma de Mallorca will not disappoint any true shopping fanatic!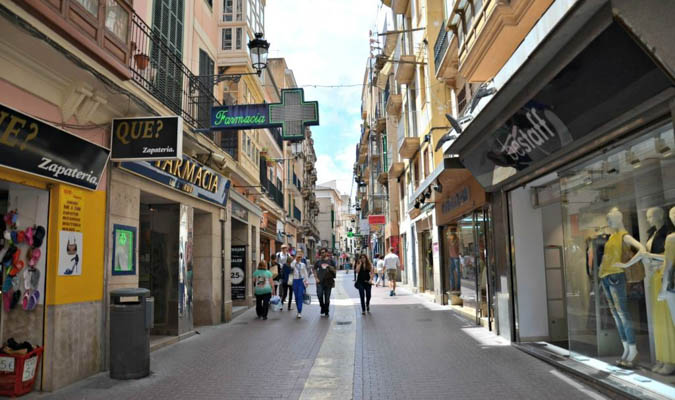 Attend a local Festival or 'Fiesta'
When it comes to Fiestas, Majorca Island does them best! There is a huge list of Fiestas taking place on the island throughout the year.
Sant Joan (June 24) - If you're travelling in June then you won't want to miss this fascinating Summer festival –  head down to the beach the night before and enjoy the bonfire by the sea. The Fiesta goes on into the night and doesn't end until sunrise "el sol Quan balla" (when the sun dances).
Santa Margalida (July 20) - Enjoy a whole week of Fiestas at the end of July to celebrate the patron saint's feast day. During this vibrant and lively week the Cavallets dance through the streets.
La Mare De Déu Dels Àngels / Moors and Christians (August 2) - August is a great time to travel; Pollensa recreates the battle of the townspeople against Dragut led by Joan Mas. Be prepared to drink plenty as the mesciat (strong, traditional alcoholic drink) flows during this celebration. 
Sant Bartomeu (August 24) Head over to Alcudia and take part in the Fiesta of Lanterns. Here the town's children stroll through the streets singing traditional Mallorcan songs whilst carrying lanterns made from melons, A great one to get the kids involved in!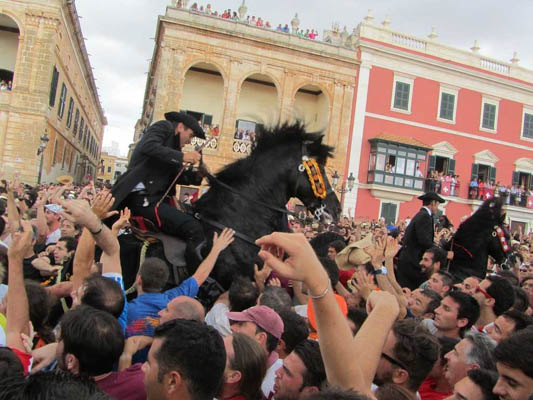 Now for the best bit, where to stay in Majorca… 
All of our villas have been handpicked to perfection – every villa in our portfolio has been inspected thoroughly before being added to our collection and our villas in Majorca are no different. Solmar Villas has a comprehensive collection of properties certain to make your Mallorca holiday one to remember. Our Majorca villas are in close vicinity to the deserted sandy coves, breath taking mountain landscapes, peaceful countryside, spectacular coastlines, buzzing resorts and the wonderful capital city of Palma, so you really will have a great time whatever you require Mallorca has it.