Mar Menor Golf Resort
Nestled between the Mar Menor Sea and the stunning Murcian Mountains, this beautiful resort spans over 1,400 acres, offering visitors breathtaking views and a wide range of activities to enjoy during their stay. The resort is home to an 18-hole Jack Nicklaus-designed golf course, making it an ideal destination for golf enthusiasts. The golf course is designed to challenge players of all skill levels and offers breathtaking views of the surrounding mountains and sea. In addition to golf, the resort offers a wide range of activities, including tennis, paddle, and a fitness center.
Mar Menor Golf Resort is also home to a selection of bars and restaurants, each offering delicious cuisine and a unique dining experience. From Spanish tapas to international dishes, there is something to suit all tastes and preferences.
A villa holiday at Mar Menor Golf Resort offers the perfect combination of comfort and relaxation in a stunning setting. With so much to see and do, it's no wonder that Mar Menor is considered one of the most sought-after destinations for villa holidays in Spain.
A Selection of Mar Menor Resort Villas
Sat 21st Oct, 2023 - 7 nights
Sun 1st Oct, 2023 - 7 nights
Fri 3rd Nov, 2023 - 7 nights
A Blend of Luxury, Relaxation, and Sporting Excellence
Mar Menor Golf Club Resort Facilities
18-hole golf course
Spa facilities
Tennis 
Gym
Commercial centre 
Swimming pool 
Clubhouse 
Small supermarket
Mar Menor Golf Resort Facilities
Golf
The resort features an 18-hole golf course designed by Jack Nicklaus. Its centerpiece is a meticulously designed 18-hole golf course that offers a challenging yet rewarding experience for players of all levels. The surrounding landscape, including lakes and natural vegetation, adds to the aesthetic appeal of the golf course.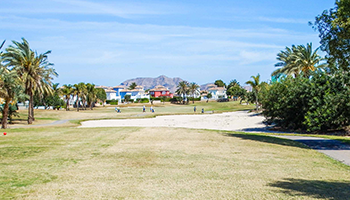 Spa
Relax and unwind after a day of activities by enjoying the hydrotherapy pools, saunas, steam rooms and jacuzzis.
Tennis
Test your tennis skills on the flood lit roof top court.
Padel Tennis
This racquet sport that shares similarities with both tennis and squash. It's typically played on a smaller court with different equipment. There are 8 padel tennis courts available.
On site supermarket
A good selection of essentials available including bank with cash point services
Crazy Golf 
Add a playful twist to the traditional sport and try out the brand new crazy golf on offer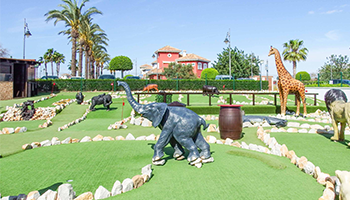 Clubhouse 
Overlooking green you will find a café bar with terrace, additional services including changing rooms, golf hire and more. 
A wide variety of restaurants are available for dining within the Mar Menor Resort. Surrounding the resort, further down the boulevard you will find a choice of restaurants and bars with a selection of entertainment.  
Nomad Restaurant 
A traditional restaurant with seasonal menus, catering to a variety of palettes. 
The Clubhouse Bar
In prime location, the clubhouse is the perfect place to relax and unwind after a round of golf.
Woodfire Steak House 
A wide selection of grilled meats are on offer, with live music and on outdoor barbecue to compliment the culinary delights. 
Fontana di Pietra
Enjoy a taste of Italy with fresh pizzas and pastas for the whole family.