La Manga Club Resort 
The stunning La Manga Club resort spans over 1,400 acres, offering visitors breathtaking views and a wide range of activities to enjoy during their stay. With an average of 320 days of sunshine each year, La Manga Club is the perfect location for those seeking a relaxing, sun-soaked holiday. One of the most popular options for accommodation at La Manga Club Resort is the villa rental. The villas offer a sense of privacy and comfort that is hard to match in other types of accommodation. All of our villas in La Manga Club are fully equipped with all the modern amenities one would expect, including a private swimming pool, air conditioning, and Wi-Fi. 
With a vast array of activities available on-site, including golf, tennis, water sports, and a world-class spa, La Manga Club Resort caters to all types of travelers. Whether you're seeking a romantic getaway, a family holiday, or a group trip with friends, the resort offers something for everyone. With so much to see and do, it's no wonder that La Manga is considered one of the most sought-after destinations for villa holidays in Europe.
A Selection of La Manga Club Villas
Sat 7th Oct, 2023 - 7 nights
Fri 22nd Sep, 2023 - 7 nights
Sat 28th Oct, 2023 - 7 nights
An Exclusive Tourist, Sports and Leisure Resort
​​​​​​​La Manga Club Resort Facilities
Golf - 3 world-renowned 18-hole golf courses
Tennis – 28 tennis courts
Gym
Football – 8 football pitches 
Cricket
Spa
Weddings + corporate events
Restaurants and bars 
La Manga Club Resort Facilities
Golf
Nothing says La Manga Club quite like golf. Renowned for being one of the best sports resorts in world La Manga Club boasts three 18-hole golf courses for all abilities. It offers a large practice area with the most up to date equipment for all levels.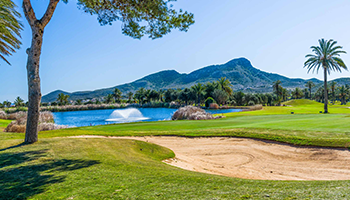 Football
La Manga Clubs Football Centre offers 8 natural grass FIFA sized football pitches with one holding stands to fits up to 800 people.
Cricket
One of Spain's best cricket facilities, this European Cricket Centre boats 2 artificial pitches, 5 artificial net lanes and small fielding practice area.
Cycling
Surrounded by nature and 300 days of sunshine, La Manga Club is the ideal location for cycling the region. The surrounding areas is quiet, smooth and suitable for cyclist of all levels.
Gym
The Grand Hyatt La Manga club Golf and Spa Fitness Centre has a team of professionals on hand to offer a personalised service for your fitness goals.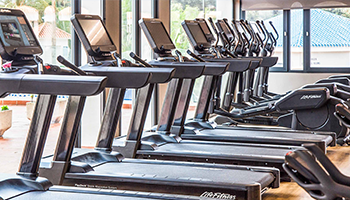 Tennis
The Racquets Club has recently been renovated to provide state of the art facilities including 28 immaculate courts and seven floodlit courts.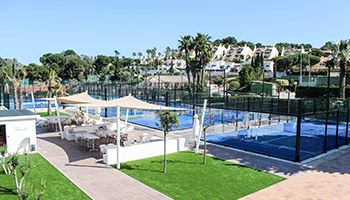 Spa
Relax and unwind at the Alma' Spa, taking in the tranquil surroundings. For complete indulgence, pamper yourself and choose from a wide variety of treatments by the resident therapists. The hydrotherapy circuit area combines a thermal contrast pool, hydro-massage bath, effect showers, ice fountain, steam bath and sauna that will help you reduce muscle tension, relieve stress and improve circulation.
Weddings + Corporate Events
Idyllic locations for ceremonies, cocktails and banquets events whilst taking in the impressive views over the La Manga Club golf courses.
A wide selection of restaurants is available for all culinary tastebuds, whether you prefer Japanese cuisine or Mediterranean buffet, there is something for everyone.
Hatsune – Guests can breathe in authentic Japanese philosophy and dine on exquisite Japanese delicacies.
Grand Terrace Grill – The Grand Terrace grill offers different spaces for a variety of culinary experiences. Choose from grilled cuts of aged meats, accompanies by local, national and international wines for the ultimate dining experience. Open during the summer evenings from Thursday to Saturday from 7pm to 11pm.
Grand Sunday Brunch -Every Sunday, this restaurant is hose to a delicious brunch served from 12.00-17.00h with a wide selection of fresh seafood on offer such as oysters, red prawns and lobster. Alternatively roast beef and sirloin wellington can be enjoyed in beautiful surroundings.
Amapola Gastronomic Restaurant – Located in the Grand Hyatt La Manga Club Golf and Spa, this is the ideal way to enjoy a unique dining experience in an elegant atmosphere. You can find fresh fish cooked with Mediterranean tradition, perfect to enjoy alongside a superb cellar of national and international wines. This experience is ideal for special occasions and private events.
The Last Green – This relaxing bar is the ideal place to sit back and enjoy a drink or appetizer. Serving cocktails, tea, coffee beers and much more. Live performances, similar to the traditional piano create a fun atmosphere to enjoy.
37 Spikes & Sports Bar – Situated within a spectacular panoramic view of the North Course you can enjoy both an apertif and a good meal in a relaxed atmosphere. Free wifi is available in addition to several TV screens to capture the latest sporting events.
Asia – The Asia restaurant stands out for its originality. Offering a wide selection of Asian dishes including Thai curry, this is the perfect place to tempt your tastebuds.
Don Luigi Trattoria – Offering rustic charm Don Luigi offers authentic Italian flavours including pizzas, fresh pasta and desserts that will transport you to Italian terraces.
La Cascada – Located next to the adults only infinity swimming pool, La Cascada offers exceptional service whilst guests enjoy peace and serenity. A wide selection of dishes are available including cocktails and champagne.
Sol y Sombra Restaurant – The perfect place for a snack whilst you take a break from a dip in the pool. A wide variety of dishes include; tapas, salads, sandwiches and even paella.
La Cala Restaurant – Enjoy this unique eating experience from the top of a cliff with magnificent views over the Mediterranean's sea. Accompany these views with traditional Mediterranean cuisine, with quality fresh fish and seafood, as well as local dishes from the region. La Cala will not disappoint!