Best Beaches in Majorca
After a year of stress-inducing uncertainty, we need to take care of ourselves now more than ever. We believe there really is nothing quite like relaxing on silky sands soaking up the sun's rays to get that desired dose of Vitamin D, which is why we've scoured miles of coastline to bring you the best beaches in Majorca.
Encircled by the bluer-than-blue Mediterranean waters off the north-eastern coast of Spain, Majorca exudes a charm that leaves visitors returning year after year. Boasting around 200 stunning beaches – over 30 of which are designated as 'Blue Flag' – Majorca's beaches range from broad sandy expanses to crowd-free coves known as 'calas', with glass-clear waters. In fact, there is a beach for every mood and moment! Read on to discover the prime spots for some post-lockdown R&R on the Balearics biggest island.
The North Coast
Majorca's north coast gives visitors the opportunity to marvel at nature's outstanding beauty. The coastline is dominated by the UNESCO World Natural Heritage-listed Serra de Tramuntana mountain range, resulting in many beaches and calas being backed by green vegetation and sun-warmed pine forests with spectacular views of these craggy mountains.
This is showcased on the northernmost tip of the island along the Formentor peninsula. Here, a number of magical, secluded coves can be located such as Cala Formentor, a narrow kilometre-long stretch of soft sand and one of the best beaches in Majorca. Whilst in the area, marvel at the Cap Formentor lighthouse which points across the water to sister island, Menorca.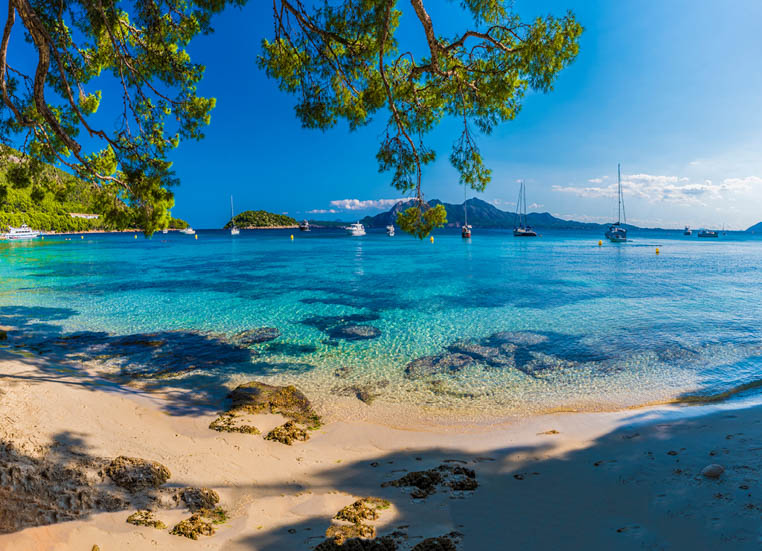 The old fishing village of Cala San Vicente at the edge of the Tramuntana mountain range is also picturesque, with three sandy beaches right on its doorstep. Watersports enthusiasts will love exploring the crystal-clear waters to glimpse the fabulous underwater rock formations, best admired whilst snorkelling or scuba-diving.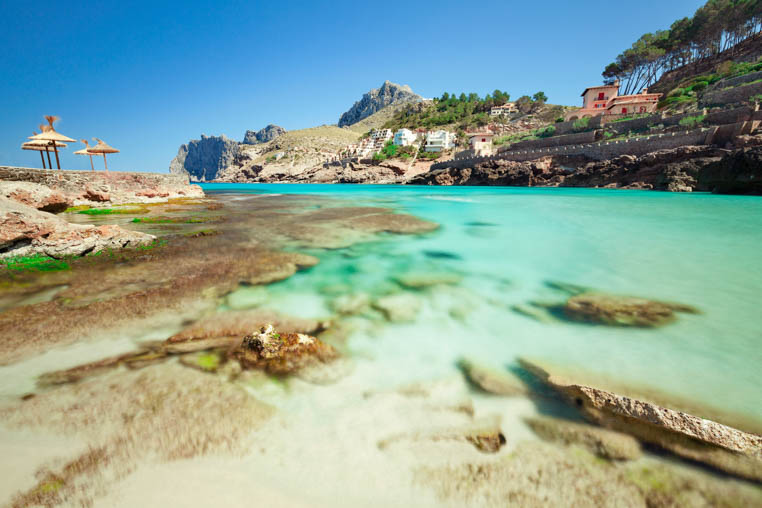 Further down the coast you will find a wonderful stretch of sunbathing heaven at Port de Pollença beach, the perfect place for families offering sun loungers, watersports and golden sand which shelves gently into the clear waters. Overlooked by the picturesque Tramuntana mountains, it's one of the best settings in Majorca and also hosts a number of shops and chiringuitos along the beach front.
Along the coastline is the medieval town of Alcudia, where you'll be greeted by three kilometres of well-maintained, fine white sand at Playa d'Alcudia. Perfect for families with young children, the beach has wooden walkways at the back to allow for easier access for pushchairs, lifeguards are on duty during the busier periods and the sea is shallow and warm. If you're looking for a break from building sandcastles, cool off at the nearby Hidropark Alcúdia waterpark, full of thrill-inducing waterslides.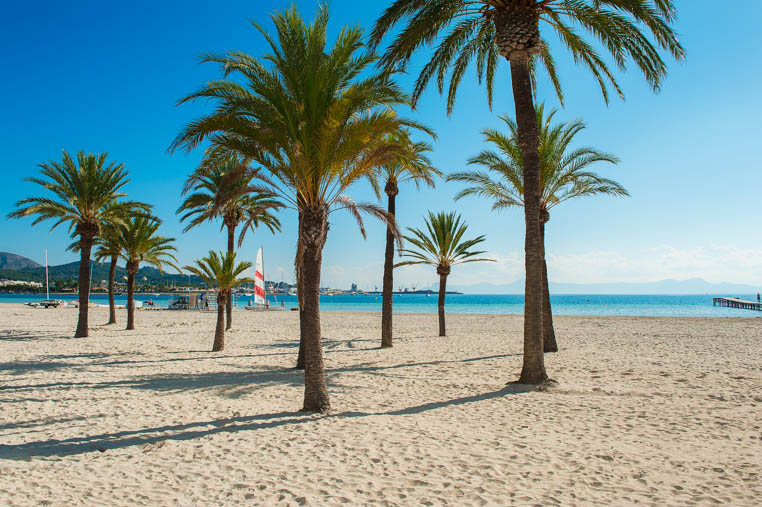 The South Coast
The island's beautifully rugged south coast also offers some of the best beaches in Majorca. Here, charming villages ooze authentic charm and a gentle pace of life, fantastic harbourfront restaurants serve the freshest of fish and picture-perfect coves are dotted throughout, backed by pristine nature reserves.
Ideal for both families and couples, a visit to Cala d'Or allows you to discover no less than five beaches with fine sand and crystal-clear waters. The central Cala Gran Beach is one of the largest in the area, with plenty of facilities including bars, restaurants and a children's play area. Despite its built-up feel, the bushy pines growing along the rocks that surround the bay help to preserve its natural beauty. If you're looking for relaxation combined with adventure, Cala Ferrera's calm turquoise waters are perfect for snorkelling and you can rent a pedalo to explore your surroundings, while Cala d'Or beach is the last bay in the southern part of the resort close to the marina. Meaning 'the golden bay', the beach stays true to its name offering a shelf of golden sand and calm waters for children to splash around in. After a relaxing family beach day, stroll to the exclusive shops, boutiques, bars and restaurants at the beautiful marina in a natural harbour setting.

Cala Pi beach is lesser-known, flanked by pine-covered cliffs and reached via a set of steep steps. The shallow waters make it a haven for families and the area is sheltered due to a long torrent of dramatic rocks out to sea.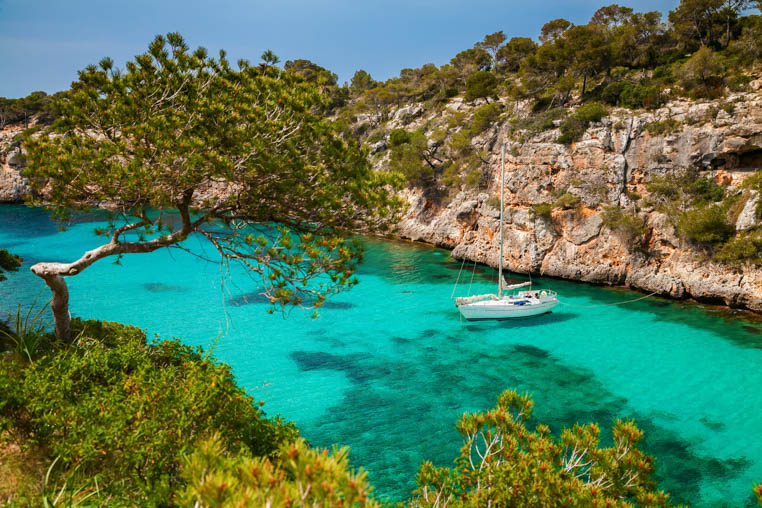 Another unspoilt beach on the south coast and the ideal place to get away from it all is Es Trenc. Often referred to as 'the Caribbean of Majorca', two-kilometres of gently-sloped blindingly white sand and turquoise waters backed by dunes and scented pine trees await.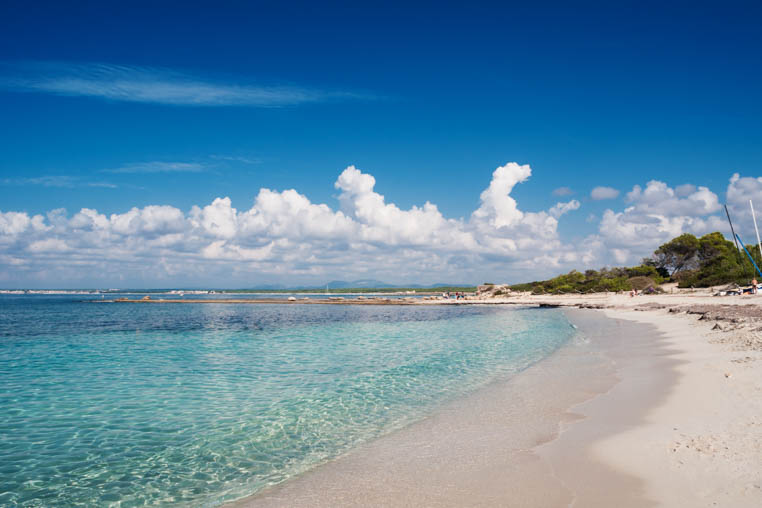 For completely wild nature with no facilities around, head to the remote Es Carbo Beach. True beach connoisseurs know that the harder it is to get to the more paradisiacal the location, and once you reach this spot you will be rewarded with natural sand dunes flanked by sea birds, along with inviting waters calmly lapping the golden sand.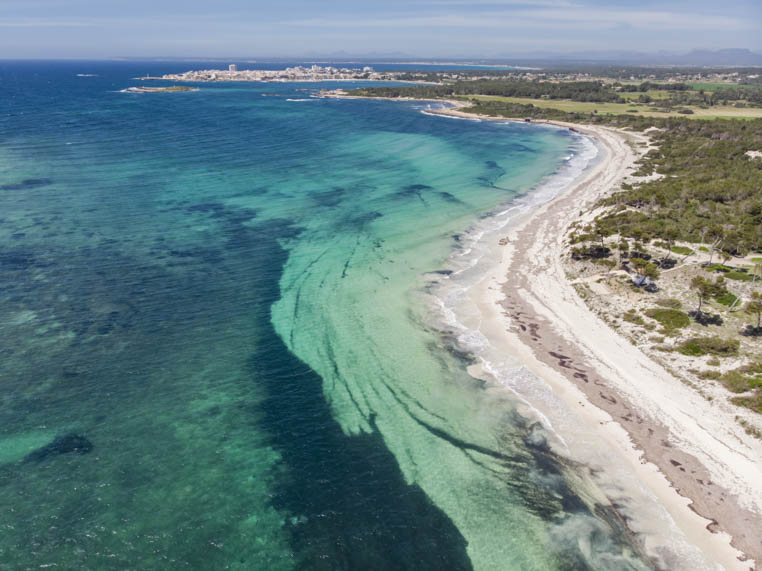 Whether you wish to uncover beautiful landscapes in the north or the south, it's clear that Majorca offers some of the best beaches in Europe. We offer a wide range of beach villa holidays and our experts are on-hand to ensure you select the right destination for all of your holiday desires.