Greek Villas with Pools
Greece is a land of limitless diversity and laidback living, where the dramatic islands flaunt their own individuality and never-ending natural beauty. Whichever Greek destination you end up choosing, you can expect nothing less than moreish cuisine, piercing blue skies, balmy waters and sun-kissed beaches around every corner. Glorious Greece is also home to some of the world's most prized architecture and historical relics, enhanced by the friendly locals and postcard-perfect villages awash with waterside tavernas. Perhaps you're a couple looking for a romantic getaway, or a large family in search of five or more bedrooms? Our vast selection of villas with pools in Greece will cater to every taste.
Villas with Private Pools in Greece
Whether you're an ancient history enthusiast, a thrill-seeker or beach buff, our Greek villas with pools allow you to make the most of the island you choose, taking a dip during the heat of the midday sunshine and exploring the attractions when the temperatures cool slightly. Villas with private pools are appealing in a number of ways – you can remain isolated from strangers and avoid rushing for sunbeds every morning, while freedom and flexibility means no fixed meal times, dress codes or strict rules. We understand how important it is to find the right villa to suit your holiday needs, which is why we have multiple villa styles to choose from, all with their own private pool of course.
Multiple Villa Styles with Private Pools in Greece
Whether you're after large villas with five bedrooms or more for groups or multiple generations, secluded sanctuaries to escape the crowds or neighbouring villas to spend some quality time together yet maintain a level of privacy, you pick your ideal Greek destination and the guests, and we will take care of the rest. Sports fanatics will love our range of golf villas – many are situated within leisure resorts where other facilities are on site to keep everyone entertained – and teenagers will be kept busy in our villas with games facilities, featuring everything from table tennis to pool tables.
We haven't forgotten romantic getaways either – our villas for couples include their very own private pool, many with sublime sea views and added extras such as hot tubs and Jacuzzis. Add a touch of luxury to your villa holiday with our Something Special and Premier Selection categories for the very finest levels of style and sophistication, or browse our villas for special occasions if you're celebrating a birthday, wedding anniversary or engagement. For families travelling with little ones, we have beach villas close to shallow waters, villas with heated pools for year-round dips and villas with gated pools, giving you peace of mind when travelling with tots.
Our Favourite Greek Destinations Featuring Villas with Pools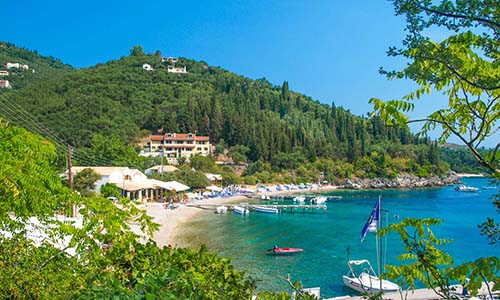 Villas in Corfu
There is plenty to see on Corfu, nicknamed Greece's 'Emerald Isle' thanks to the rolling hillsides studded with lush cypress forests and olive trees. Joining this verdant interior is a coastline home to soft-sand beaches and crystalline waters. Due to its geographical location, there is also a fascinating blend of culture, architecture and cuisine, promising plenty to explore on a villa holiday in captivating Corfu.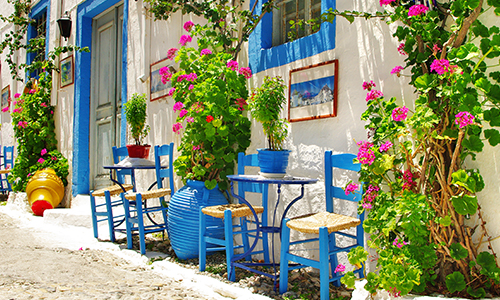 Villas in Crete
The remarkable island of Crete offers a number of quintessential experiences for every taste, be it sightseeing in mountain villages, visiting local historical attractions or sunbathing on one of the many golden-sand beaches. Crete is the largest of the Greek Islands and we offer a number of villas with private pools in the area so you have abundant choice when choosing your Cretan villa getaway.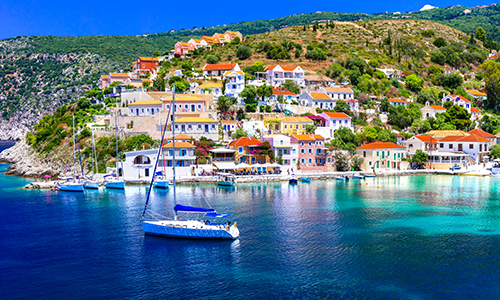 Villas in Kefalonia
Our villas with pools in Kefalonia allow you to discover the beautiful diversity of one of Greece's most picturesque islands, where lush countryside, soft sand beaches and crystal-clear waters keep visitors returning. Other sights on Captain Corelli's favourite Greek island include Roman, Byzantine and Venetian ruins, fabled fishing villages and heavenly harbourside towns – all yours to explore during a villa holiday in Kefalonia.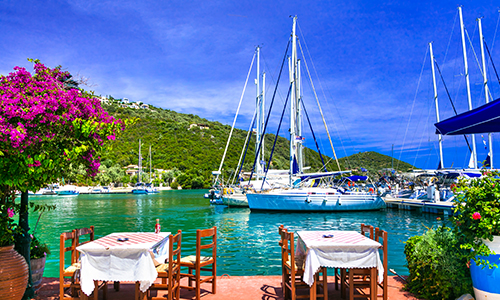 Villas in Lefkas
This beautiful island has become a mecca for outdoor pursuits.Bikers and hikers will love the paths around forested mountains and olive groves, while the Ionian Sea offers some of the best sailing, snorkelling and kitesurfing. Add to the mix sleepy mountain villages, sandy beaches and our villas with private pools, and you've got the perfect recipe for your Greece holiday.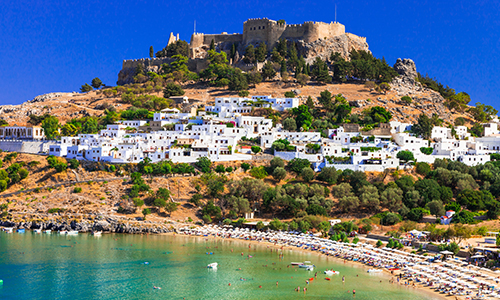 Villas in Rhodes
It's little surprise that there's plenty do on the largest of the Dodecanese Islands. From its ancient ruins for culture-vultures to to an endless ribbon of sandy beaches for the more laid-back traveller and everything in between, a villa holiday in Rhodes is sure to suit everyone. What's more, we offer a wide range of villas with private pools in over ten different Rhodes destinations.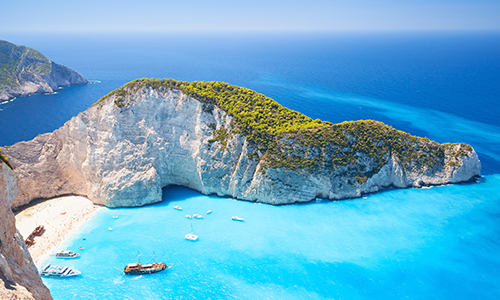 Villas in Zakynthos
Zakynthos is one of the lushest Greek islands, known for its pine-covered mountains that plummet into aquamarine waters and blindingly white beaches. With all this and more right on the doorstep of our villas in Zakynthos – it's no wonder why people flock to this southernmost Ionian island every year! Don't miss a visit to 'Shipwreck Beach', accessed via a boat trip.
Our Favourite Greek Villas with Pools