Villa Holiday: A First Timer's Guide
Going on a self-catering villa holiday can be a daunting experience for first-timers, especially if you are used to the regular, round-the-clock service of a hotel or a cruise. Paul, our Head of Sales, experienced his first ever villa holiday recently and discovered why so many of us choose to holiday in this way. Here is his experience!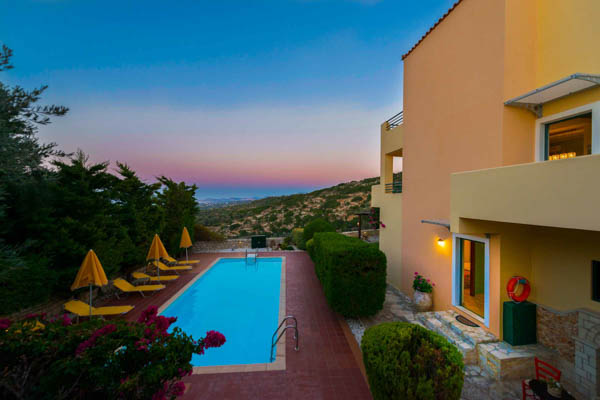 Having lived a life where every holiday I have enjoyed has been on a ship that sails on either a river or one of the Seven Seas a certain sense of trepidation and uncertainty was encountered on the build-up to our much anticipated (and needed!) Solmar Villas stay at Villa Milli in Crete.
Breaking from tradition is often a strange experience for us all but when we start to play around with something that we work hard for and feel that we need and deserve (in this instance a holiday), the mind can play some interesting games.
As an ever increasing number of us in the UK are discovering, on a cruise ship you have the knowingness of being in a controlled environment where you are fed every hour on the hour by celebrity chefs; West End Style productions shows are performed for your entertainment without fail and you wake up to something new in a different port of call every day - what is not to like and why make the change?
In being a "Villa Virgin" these questions perpetually pestered me prior to travelling but I took solace in the fact that a recent ABTA poll identified that the overseas rental market for villas continues to dominate the UK holiday industry therefore Solmar Villas must being doing something right – right?
So where to begin in choosing a villa holiday? As with any holiday, be it on land, sea or air, the first thing that you need to look at is where in the world you would like to stick a pin in the map.
Destination is always king these days as we strive to eat and drink like a local, escape the usual tourist trappings and uncover the truly authentic experiences that await us in a foreign land.
Admittedly you cannot take as much luggage as you can muster if you were sailing from the UK on a cruise but what you will find out very soon is that the amount of luggage which is required for a Solmar Villas Holiday is often half of which we usually take on-board with us.
The absence of formal night's attire combined with the ability to wash and press your own clothes in a villa that provides you with the facilities to do so is an amazing service to have at your disposal 24/7.
This utility also will make the whole packing experience a lot less stressful as all we needed was plenty of the leisure-wear for those lazy days around the pool and a couple of outfits for going out to a local restaurant.
No new wardrobe, cocktail dresses, tuxedos etc. are required and the most we got "dressed up" for was evenings when we could not be bothered to dine alfresco around the pool at the BBQ located under the olive trees at a time that suited us (not when the restaurant on board a ship dictated) and headed off to a local Greek taverna.
Remaining on that all important elements of what to pack it is worthwhile to note that you can always wash your clothes and reuse again – a great thing to remember for luggage allowances and especially for families travelling with small children (so remember to pack a few washing up tablets along with your favourite brand of tea bags as you cannot beat your favourite brew in the sunshine).
The villa option will always trump the gladiatorial arena which is the launderette on a cruise ship (those who have gotten caught up in the politics of taking someone's washing out of a machine on a cruise ship will know what I mean!) as you come home with clean washing ready to place straight back in the wardrobe and reduce the amount of clothes that you need to take with you on holiday - leaving more space in the case for those all-important souvenirs.
Having talked through in depth what we were looking for in our first Solmar Villas holiday, the very friendly, knowledgeable and attentive sales team at Solmar Villas, helped us to whittle the choice down to the beautiful island of Crete.
Boasting in excess of 1000km of crystal clear coastline and a sunshine record extending to well over 300 days per year, Crete is a fascinating island filled with traditional villages, proud inhabitants as well as dramatic mountain ranges and stunning sandy beaches. Wherever you choose to visit, you will encounter the famed Cretan hospitality, for Crete's inhabitants are proud of their island and consider 'hospitality' as a way of life.
A number of cost conscious and friendly flight times along with the some great ideas of what to do when we were on the island of Crete was presented by the lady at Solmar Villas who booked our complete holiday for us (why run the risk of doing it all yourselves – Solmar Villas is fully ATOL and ABTA bonded).
The Solmar Sales Team's first-hand knowledge only added to their user friendly and information packed website that we used as a research tool and admittedly we could have booked everything online but needed that hand holding as after all we were "Villa Virgins".
With the holiday booked we now started to turn our minds on what to do and enjoy when overseas – often an exhaustive and expensive process on a cruise with the bewildering array of excursions that you can book that really only scratch the surface of a port of call.
In looking at what to do it only then dawned on us that this is not always possible on a fleeting visit on a cruise ship to experience all that a destination has to offer as time truly is against you. Often is the case, you are perpetually checking your watch, keeping up with the crowd or even trying to avoid the massive influx of fellow passengers that have descended on the port.
Whilst I am not here to poo-poo all that cruise holidays offer, one simple understanding that we gathered very quickly during our first few days in Crete in our Solmar Villa was the Eureka moment of when we realised how much we all are governed by time not only on a ship but also in life.
During our Solmar Villas stay we had the joy of escaping the aforementioned world of clock watching that we seem to perpetually do in our everyday life (even more so on our cruise holiday where we were terrified of "missing the boat"),  so much so for the full duration of our time in Crete we did not wear watches – a rare treat not to care about time and live in the moment and escape the rush.
For those who are fellow "Villa Virgins" one of the main questions that you will have is, "How do we get there and back?" along with "What to expect when we are there?" The simple answer is that it is no different to any other holiday that you have booked prior to that of which you will experience with Solmar Villas but pretty much everything is done at your pace.
The flight effortlessly transfers you from the gloom of the UK weather to the gentle hum of the crickets in the cool afterglow of the day overseas. You collect your luggage and leave the buzz of the arrival hall, after which everything else is down to you.  
We enjoyed the fact of not being frog marching to your cabin (which often you need to leave a trail of breadcrumbs to find again as the cruise ships are now so big), no rush for the buffet, no need to reserve your sunbed and certainly no need to worry about someone dive bombing you as you enjoy a dip in your own private pool.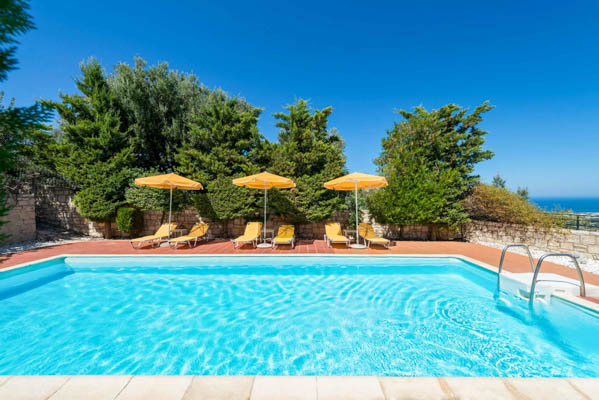 For us, we booked a car with Solmar Villas as we wanted to go off and explore the island at our own pace without the need to follow a tour guide holding up a sunflower or some other random object that allows you make them out from the back of the crowd as you strain to hear what they have to say for themselves.
We were presented with the option to book a private transfer but as the Solmar Villas website clearly stated a car is required for this villa as it truly is classed as a secluded sanctuary.
On collection of the car we used the documents that we downloaded from the "MY BOOKING" section of the Solmar Villas Website which presented us with an accurate blow by blow account of directions to Villa Milli. However, we opted to use a very handy Google Maps dropped pin location link which was also included in the Solmar Villas documentation which provided us a very simple and effective Sat –Nav tool to Villa Milli via our smart phones and free data roaming that we had on our phones – so don't forget to leave your phone charging cable in your hand luggage.
Arrival at any of the Solmar Villas must be an exciting experience for any Villa Virgin. As we turned into the courtyard of Villa Milli, your breath is taken away by the mood lit immaculately kept gardens, illuminated pool, and villa basking in the Greek moonlight which is all yours for the duration of your stay.
 As you can tell we arrived late so a word to the wise – always order the Solmar Villas Welcome Pack so that you have the essentials in your fridge which will tide you over till the morning when you can go off to the local supermarket and stock up on fresh supplies.
For those of you who are arriving early please remember the Solmar Villas properties are not ready until 4pm as they need to clean, conduct maintenance and turn the villa around ready for the next guests. This is true to any holiday especially in the same way we could not get into our cabins on the ship or check into a hotel room until the cabin/room is perfect for you.
With this in mind, for early arrivals either look at paying a little extra for more convenient later flights (especially for young families who need to entertain the children); plan on heading straight to the beach or have a lazy lunch in a local restaurant whilst leaving your luggage in your hire car before heading to the villa for 4pm – remember to pack your bags accordingly so you can achieve all of the above.
With Villa Milli, our villa owner Andreas was there to greet us and show us around the villa. He diligently showed us how the dishwasher worked, the Air Conditioning remote operating instructions (a must in peak season!); the free Wi-Fi code, how the satellite TV worked and explained if we needed any recommendation on what to do where to go we were to call him any time – authentic local knowledge.
Having a villa owner on site is not always the case with Solmar Villas and keys can be left for you in a locked drop box which is accessed by a 4 digit code. The code is provided via the Solmar Villas documentation that you will need to download via the afore mentioned "MY BOOKING" section of the website.
The unfortunate side to this is that you do not have the likes of Andreas who presents you with a cake typical to Crete that his wife baked for us on our arrival – better than any chocolate on a cabin bed's pillow and our first true taste of local life and exposure to that famed Cretan hospitality.
The rest of our time in Villa Milli is peppered with long lazy days in the sun around our private pool, BBQ's where we cooked local produce from the supermarket, late night pool parties, catching up on reading and updating our social media status so that all of friends, families and colleagues would understand what awaited them when we booked our next villa break and invited them to stay with us as Solmar Villas really do lend themselves to quality time away together with loved ones.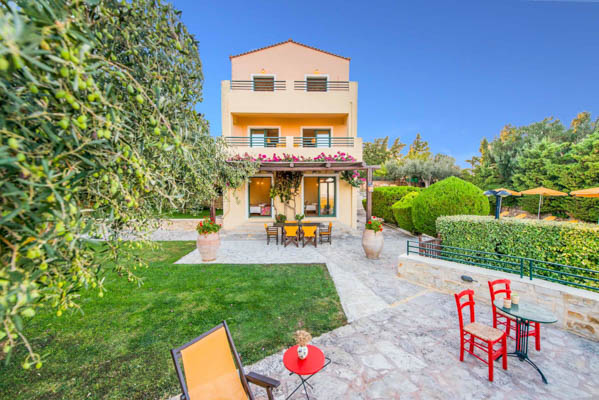 Yes time was spent going into town and explore the beautiful labyrinth of streets that is the old town of Rethymnon but what was lovely was the ability to stop, meander, people watch and not worry about running back to the ship to get ready for the dinner, show and the daily clock watching ritual.
A resort often takes on a different personality at dusk and after dark and we enjoyed every second of it all as we often missed this when we returned to the ship after a full day of site seeing – see above note on our usual on-board evening rituals.
So what for our next break? Villa or Cruise? One interesting thing to note is that cruise ships are now announcing that they are creating "villas" on their new vessels being built - see Celebrity Cruises new ship Celebrity Edge and Norwegian Cruise Lines "Haven" programme.
Is this cruise lines trying to get a slice of the action of what we have enjoyed in Villa Milli? No doubt! As more and more people want the relaxed escapism of the masses, cruise lines are attempting to capture the feeling that Solmar Villas does so well with it selection of villas but it will never be the same.
For us it will no doubt be a mix of both a cruise and now a villa stay – no longer are we Villa Virgins but full converts to the experience and will be back for more – this time with an army of family and friends as we have some special celebrations next year.
If you want a fully relaxed holiday where you can eat like a local whenever you want, not clock watch, escape the masses, not feel like part of the crowd and truly enjoy all that a destination has to offer, I would well recommend talking to Solmar Villas.       
Solmar Villas boasts over 550 'Exclusive' villas, meaning they're only available to Solmar customers! Whether you're a villa holiday veteran or a first-timer looking for something a bit different, we've got a fantastic variety of private villas waiting for you.