3G Holidays - Why Multi-Generation Holidays are on the Rise
3G (three-generation) holidays are all the rage right now and for good reason! With the churn of hectic modern family life taking its toll, 3G getaways allow the opportunity to escape and create those sacred memories with all the family.
As the older generation tends to be more active nowadays, the popularity of 3G holidays increase with many holiday makers relishing the chance to spend more time with more of the family.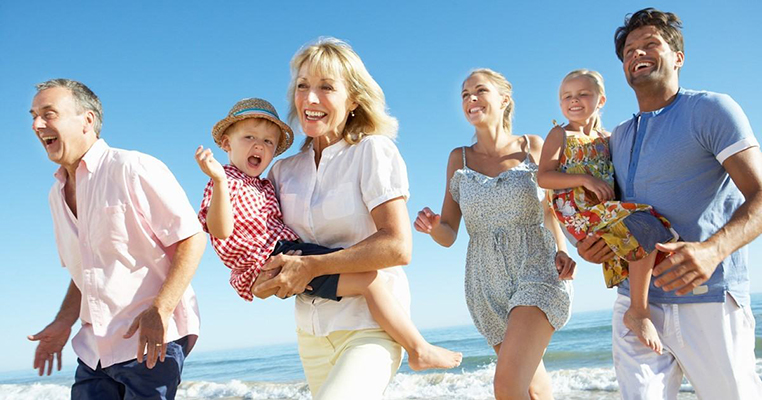 What to Consider
When choosing your holiday, you will need to bear in mind a few things to make sure that your holiday is suitable for all the family.
If travelling with elderly people or very young children you may need to be conscious of the predicted forecast and make sure that the weather won't be uncomfortable for any members of your party. It is also a good idea to carefully consider your location, especially flight times, transfers upon arrival and distance to local amenities.
When it comes to accommodation, villas tend to be the natural choice for multi-generational getaways, as many hotels are unable to offer interconnecting rooms or even rooms too close together.
Villas offer a spacious, comfortable living accommodation for everyone, with self-catering facilities to make it your home away from home. Bask in the sun, cool off in your own private pool and enjoy a family meal 'al fresco' to create memories that last a lifetime.
Where's Hot for 3G Getaways?
When choosing the right destination for your 3G holiday, it's a good idea to look for somewhere which offers something for everyone.
Majorca
From high-adrenaline cycling adventures to lazy days on gorgeous beaches, Mallorca offers an idyllic mixture of adventure and relaxation to suit all the family. With scenic walks of varying difficulty, Majorca is a great destination for a slightly more active family holiday.
Ibiza
Despite its reputation for partying, Ibiza offers tranquil beaches, bustling markets and a rich history to explore, making it a perfect choice for a multi-generational getaway. And if you have young adults with you, they will appreciate the chance to explore the renowned clubbing scene!
Lanzarote
Lanzarote is famous for its stunning black sand beaches and volcanic landscape and for good reason! The island provides striking views and all the family could enjoy exploring the underground lava caves or taking a ride on a camel! 
Large Villas Perfect for a 3G Holiday
We have a number of fabulous large villas that are perfect for that precious family holiday, check out our range here. Below are some of our favourite picks...