Things to do in the Amalfi Coast
One of Italy's "must-see" spots, the Amalfi Coast is a delightful collection of towns and villages, each with its own unique charm and character. Pastel-painted cliffside towns, citrus lemon groves, glistening turquoise waters, sumptuous Italian food, and pretty pebbled beaches make this a truly dreamy destination.
You'll be spoilt for choice with things to do in this cherished UNESCO World Heritage gem, especially as it's so vast. Here are our top picks:
For the Foodies:
Drink Limoncello in Sorrento
Sorrento is famous for its mouth-watering gastronomic scene; get your citrus hit in its ancient old town. Weaving through its souk-like streets is a zesty affair, with shop after shop offering delicious locally-made bottles of limoncello and eye-watering bitter lemon sweets. Don't forget to sample the city's celebrated dumpling dish, the hearty gnocci alla sorrentina.
Eat your way around Cetara
This quaint medieval village is one of the most authentic and unspoilt on the Amalfi Coast and has a vivid reputation as a foodie hotspot. The beach is dotted with brightly coloured fishing boats, where you can watch the local fishermen in action. It is famous for its fresh tuna and anchovies, and is home to some of the region's best seafood. Make sure to order your pasta drizzled with Cetara's legendary fish-based sauce, colatura di ali.
Go wine tasting in Campania
One of the most beloved wine regions for the Romans, Campania is home to numerous rare and native grape varieties that can't be found anywhere else. The majority of the region's vineyards are nuzzled within the dense countryside, spread across the rich volcanic landscape. Witness the old wine tradition first-hand with a tasting at a traditional winery, and take a bottle or two home as a souvenir.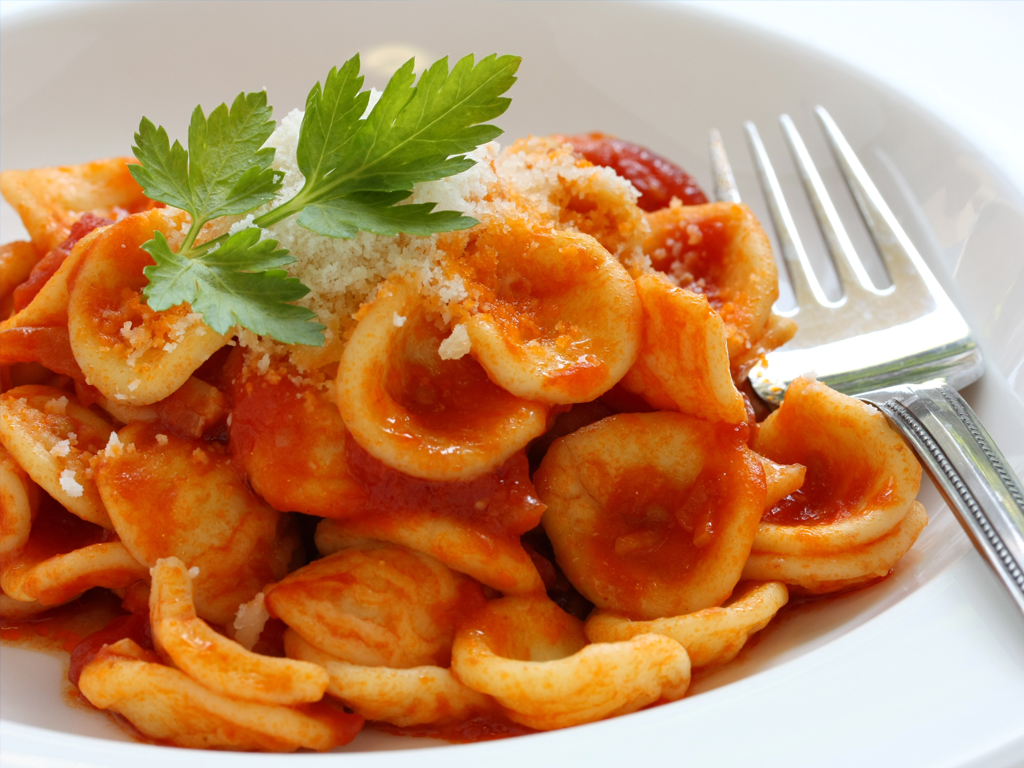 For the history buffs:
Explore Pompeii like a gladiator
History lovers will make a dash to Pompeii, a 2,000-year-old historic ruined city devastated by the catastrophic eruption of Mount Vesuvius. This well-preserved UNESCO World Heritage site offers visitors a glimpse into the life of an ancient Roman, with its amphitheatre, gladiator barracks, and eerie streets echoing the city's captivating past.
Discover Amalfi's cathedral
The city of Amalfi is more than just a pretty face: it was a historic powerhouse as Italy's most notorious maritime republic. With such a grand history, it explains why this laid-back spot is home to such an extravagant cathedral. Dating back to the 9th century, Amalfi Cathedral has donned many hats over the years, from striking Renaissance and Baroque designs to elegant Norman-Arab marble and stone architecture.
Step back in time at Paestum
This archaeological site is a historical wonder, home to three of the world's best-preserved ancient Greek temples that date back to the 6th century. Make sure to visit the museum, crammed with millennia-old frescoes, intricate ceramics, and fascinating artefacts. Set within acres of wildflower meadows, relax with a picnic whilst you gaze in awe at this impressive UNESCO World Heritage site.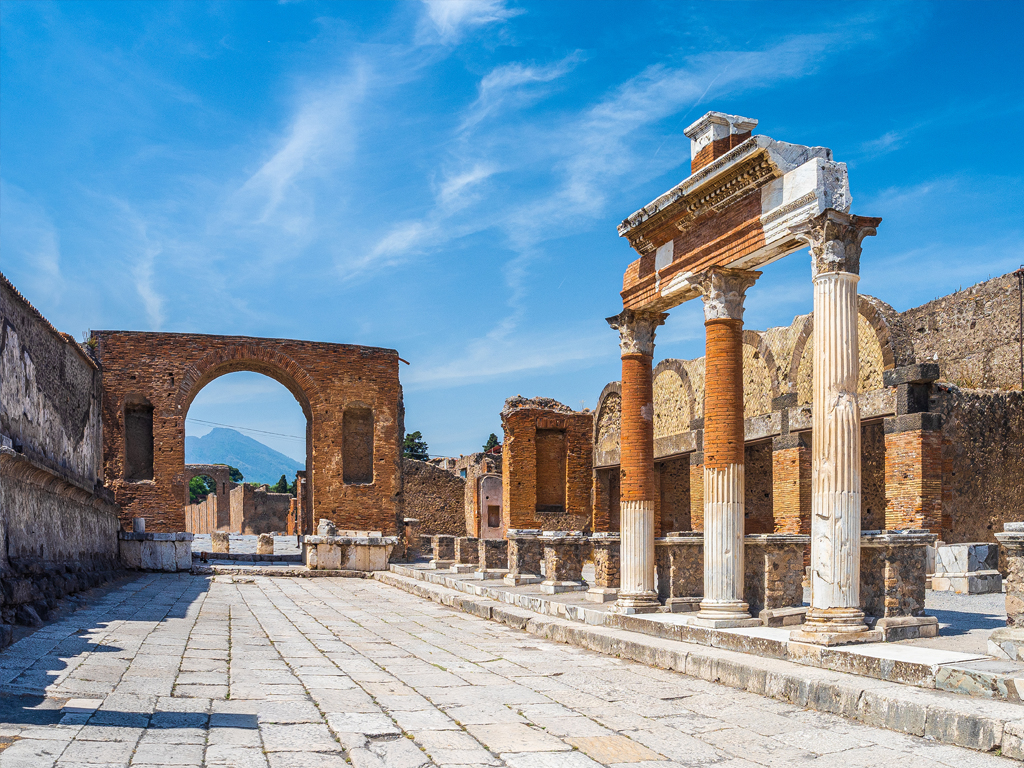 For the culture vultures:
Marvel at the gardens of Ravello
Nicknamed the "City of Music," the famous German composer Wagner put this glorious hilltop town on the map. Set high 365 metres above the Tyrrhenian Sea, Ravello spoils its guests with jaw-droppings over the glittering coastline. One of the top sights is the ornate gardens, considered the most beautiful in all of Italy. Don't miss a snoop around Villa Rufolo, a grand 13th-century villa hosting remarkable summertime open-air concerts.
Take in the romance of Positano
It's easy to see why Positano is considered to be one of the most picturesque towns on the Amalfi Coast, with its pretty pastel-hued houses that tumble down to the sea. No less photo-worthy are its steep streets, filled with cute cafes, fashionable retailers, and opulent restaurants. There are many ways to take in this achingly beautiful town, but it is best viewed from the sea – hop on a boat tour and admire Positano from the water.
Admire the views from Praiano
Equally as picturesque as its well-known neighbour, Positano, the medieval fishing village of Praiano is away from the crowds. Hugging the mountainside and studded with whitewashed houses, the glistening sea views go on for miles and miles. Take a scenic walk down to the bustling harbour and beach to dip your toes in the warm, calm turquoise waters.

For the water lovers:
Sail though the Emerald Cave
Squeezed between Amalfi and Praiano, the Grotta dello Smeraldo, or the Emerald Cave, is a sight to behold. This extraordinary natural phenomenon is one of Italy's most beautiful caves and its not hard to see why. The whole grotto gets bathed in a mesmerising emerald hue from the seeping sunlight, which twinkles against the dripping stalactites. Hop on a local boat tour and sail through the enchanting scenery.
Visit Capri's Blue Grotto
Located off of the coast of the glitzy Capri Island, Blue Grotto packs a punch when it comes to its natural beauty. This magnificent sea cave gets flooded with a vibrant blue and emerald light, which leaks through the narrow-arched entranceway. Marvel at this incredible rock formation up close by boarding a wooden boat that meanders through its tiny stone portal.
Soak up the sun in Maiori
The sun-drenched town of Maiori is the ultimate spot for any beach bum, home to Amalfi's longest sandy beach. A stunning sweep of soft, white-powder sand, its calm crystal-clear waters are perfect for swimming. When you're not sinking your toes in the sand, roam its roaring boardwalk lined with quaint shops, local cafes and appetising restaurants.
Relax at Conca dei Marini's beach
Follow in Jackie Kennedy's footsteps and head down to the small town of Conca dei Marini, sandwiched between Amalfi and Positano. When you've finished wandering its charming streets, you'll want to visit the unspoilt beach, a small stretch of coast perched in between lush pine-clad cliffs. An idyllic hidden swim spot, with inviting turquoise waters that sparkle against under the sunlight.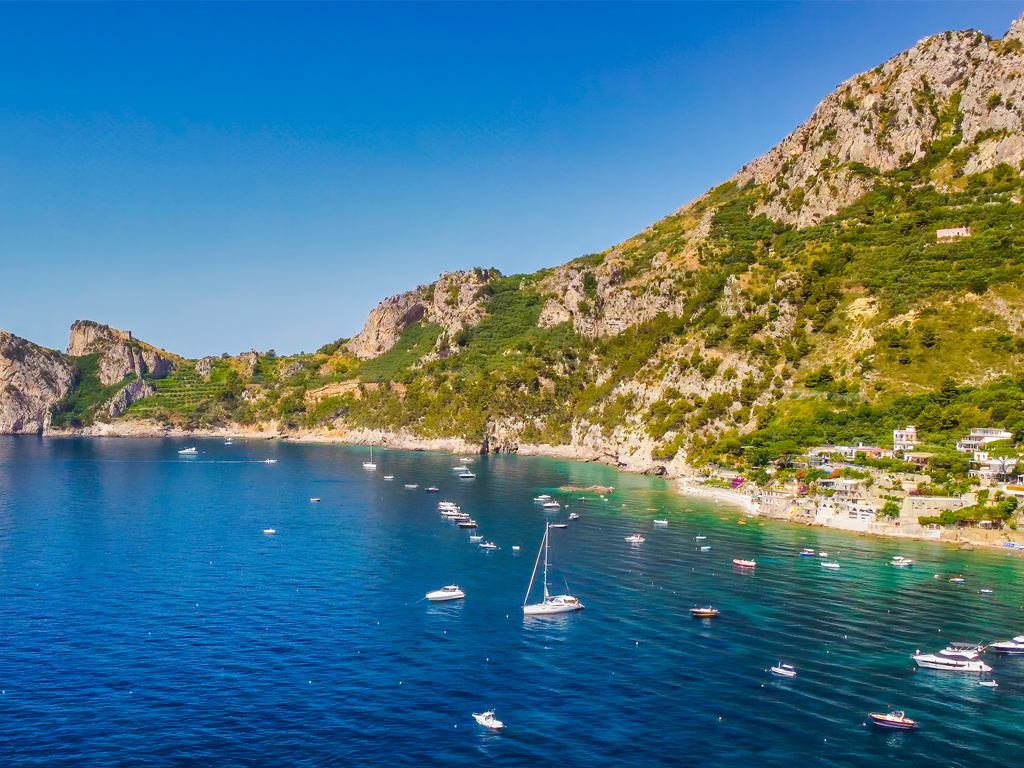 Where to stay in the Amalfi Coast?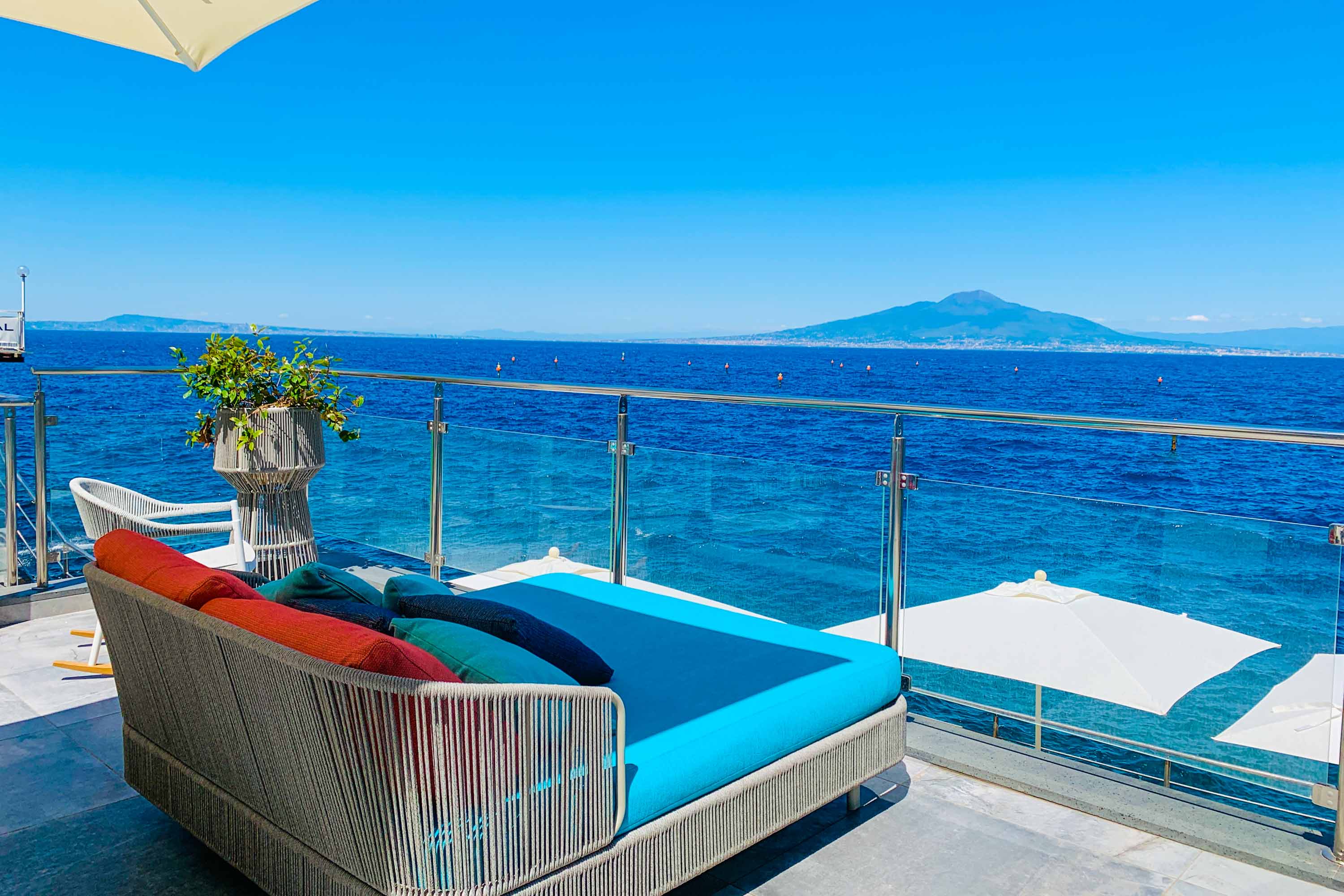 Enjoy the alluring Amalfi Coast from the comfort of your very own private villa. Our Amalfi Coast villas are dotted throughout the region along the glistening coastline, allowing you easy access to some of the region's most beautiful beaches and tourist hotspots!