Best things to do in Kos
The third-largest Dodecanese Island, Kos has a rich cultural history and miles of breath-taking landscapes to explore. A playground for medieval knights, ancient Romans, and Classical Greeks, including Hippocrates - the island is littered with historical ruins. Spend your days snorkelling in turquoise coves, venturing up rocky peaks, or lazing around on sandy beaches. There are so many things to do in Kos that it's hard to know where to start!
Let's explore the best things to do in Kos: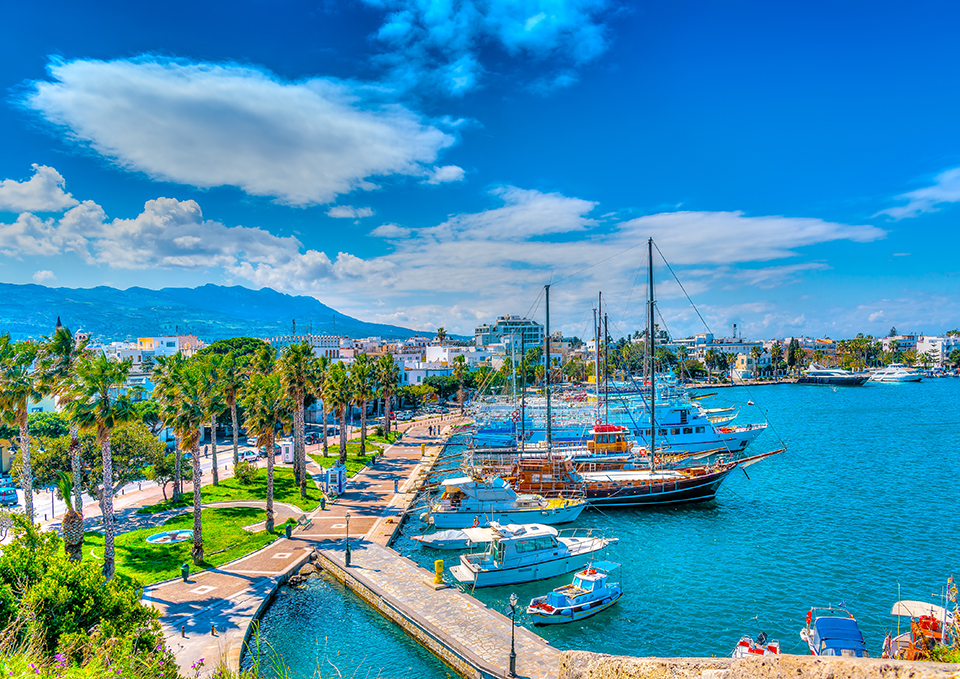 Beguiling beaches
Sunbathe and water ski at Paradise Beach
You don't have to wonder how this beach got its name. One of the most beautiful on the island, the powdery white sand and sparkling turquoise waters echo the shores of the Caribbean. Ready for some action? Bounce along in a banana boat or have a go at some thrilling water skiing.
Swim to an islet from Agios Stefanos Beach
A mixture of white sand and pebbles, this picturesque piece of coast sits on a channel facing the rock-crowned islet of Kastri. Swim over or hire a pedal boat to explore this scenic islet yourself, where you can visit the whitewashed church of Agios Nicolaos and some ancient remains.
Relax in peace on Tigaki Beach
It's not hard to see how families have fallen in love with Tigaki Beach. This long and sandy bay is lapped by calm and clear waters, with scenic views out over the island of Kalymnos. Refuel at one of the beachside restaurants or bars, serving up fresh seafood caught by local fishermen.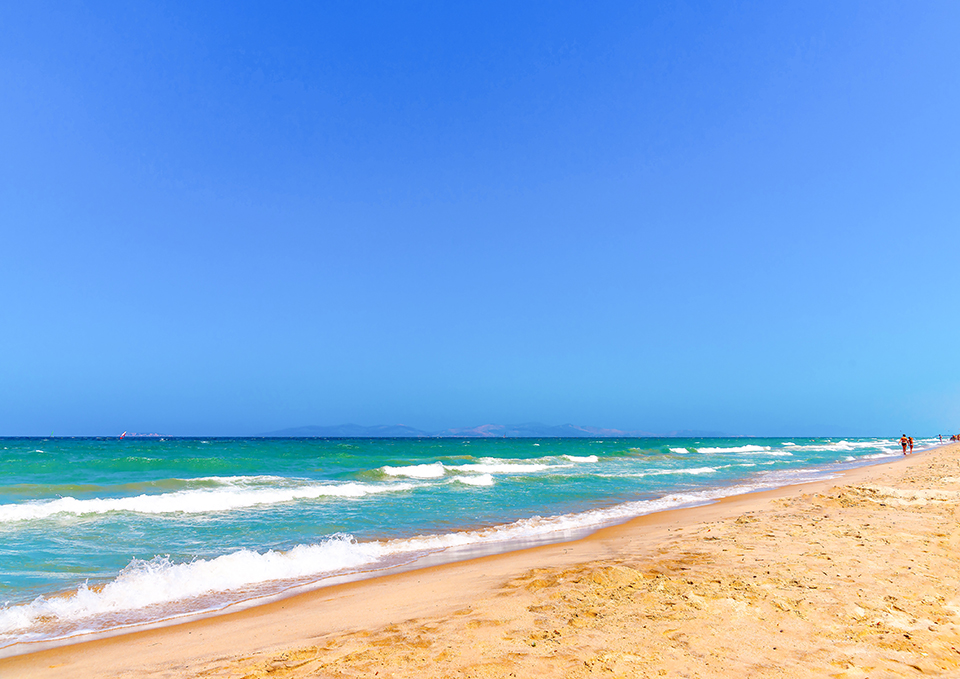 Scenic nature
Venture up a volcano on Nisyros Island
This phenomenal island packs a punch when it comes to adventure and scenery. Drive through the rugged lunar landscape to take a closer look at the volcano's rim, with endless 360-degree views of the island. Get your history fix by visiting the hillside monastery before heading back to your villa.
Wander through the cool Plaka Forest
Escape to the wilderness at Plaka Forest. Tucked away in a meandering gorge, discover breath-taking walking trails that snake through the fragrant pine forest. Take photos of the resident peacocks strutting around showing off their colourful feathers. Just don't forget to pack a picnic!
Soak in thermal springs at Agios Fokas Beach
Feeling tired after all of this exploring? Then it's time to treat yourself with a dip in some thermal hot springs. Sink into the water waters and gaze out at the scenery whilst the healing water works its magic. Spas do not get more fairylike or natural than this!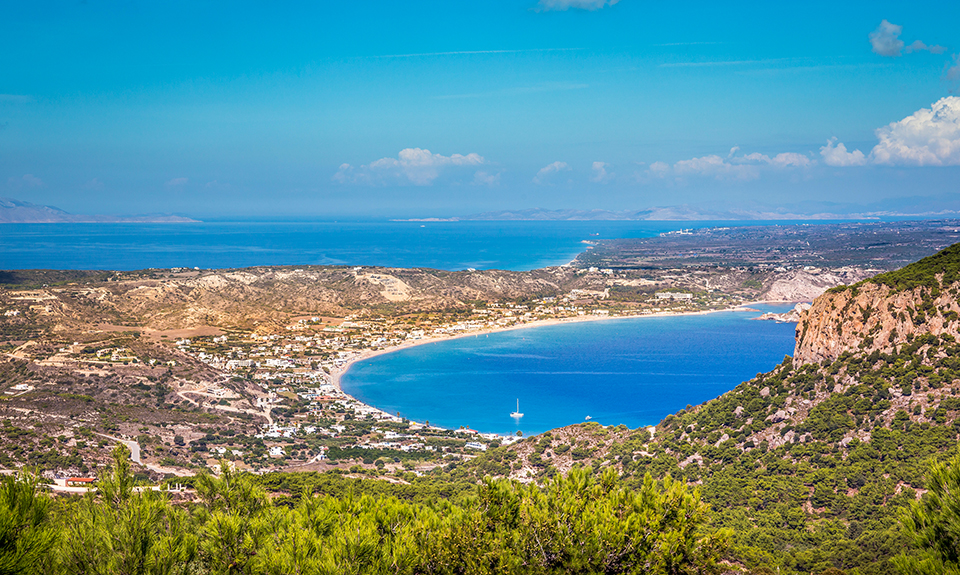 Fascinating history
Make a pilgrimage to the Hippocrates Plane Tree
Take a portal into the past and admire the works of the legendary Greek physician at the Hippocrates Plane Tree. The current tree is around 500 years old, which is thought to be a descendnet of the original from approximately 2400 years ago. In days gone by, Hippocrates would sit beneath the tree and teach his students in the shade.
Walk in ancient footsteps at Asklepieion
Named after the Greek god of healing, this ancient hospital gives a glimpse into the island's fascinating past and is stated to be the birthplace of medicine. Dating back to the 3rd century, scramble up several ruined levels crowded with well-preserved Roman baths and temples.
Discover past civilizations at Ancient Agora
Travel back in time at the impressive centuries-old social forum Agora, full of excavated temples, houses, and baths. Only revealed after an earthquake in the 1930s, you could spend all day wandering around the ruined streets and imagining what life was like 2,600 years ago.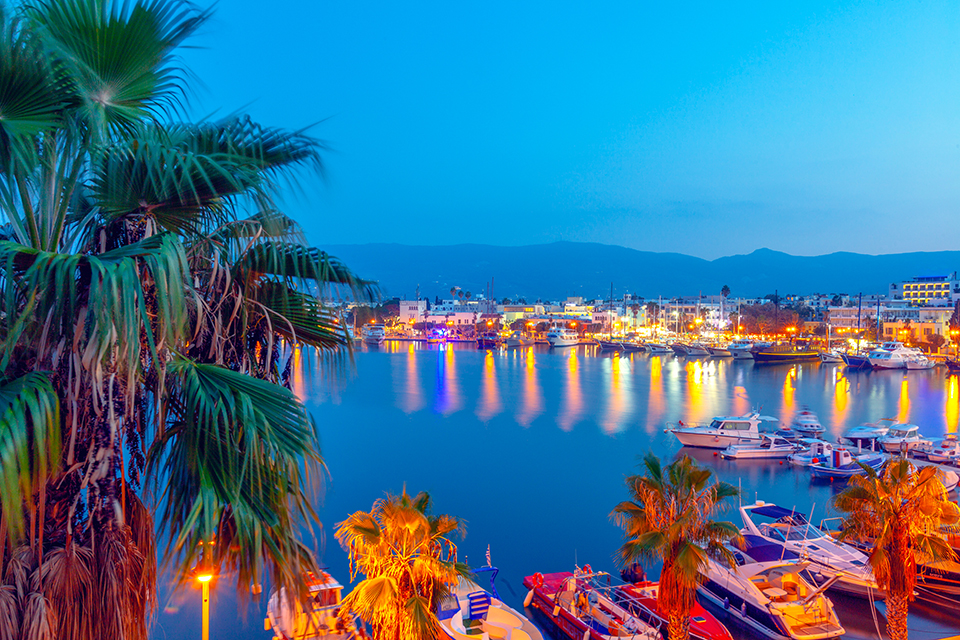 Vibrant culture
Wander through Kos Old Town
Walking through the charming Kos Town, you'll easily fall in love with its history and beauty. Lining the small, winding streets are handicraft shops, quaint cafes, local bakeries, and traditional restaurants. History buffs will be in their element admiring mosaics and temples at the beautifully restored Roman villa Casa Romana.
Walk down the famed "Wine Road"
The island prides itself on its centuries-old wine heritage, with its volcanic landscape blessing the grapes with a truly unique taste. Walk down the famed "Wine Road", the centre of Kos' main wineries, where you can sample a glass or two with a selection of mezzes and cheeses.
Shop till you drop in Kardamena
Originally a fishing village built on the remains of an ancient settlement, Kardamena is one of Kos' most popular holiday resorts. Shopaholics won't be disappointed with streets packed tightly with shops offering a colourful mix of crafts and clothes, woven in between restaurants and cafes.
With so much to see and do on this Greek gem, the only question left to ask is where will you stay? Here at Solmar Villas we feature only the highest quality handpicked villas, all with a private pool across every corner of this sun-kissed island. So if you're after a adventure-filled getaway or a laid-back vibe, there's something for everyone. Browse our villas in Kos now!