10 Hidden Gems Along the Ionian Coast That You Need to Explore
Rugged mountains, hilltop villages, idyllic coves, sweeping nature, and rainbow-painted towns: meet the many faces of the Ionian Coast.
Settled on a thin strip of the western mainland, it's Greece's best-kept secret, with a landscape coated with spectacular nature and ancient sites.
Here are 10 hidden gems you can't miss:




1. 

Ioannina
The oldest Byzantine fortress in Greece, Ioannina is towered by a majestic walled castle. Perched around Pamvotida Lake, sunsets are a big deal here as the lake and mountains are brushed with a silver and lilac coat. The fortified old town gives you a glimpse into age-old Greece, with a labyrinth of ancient churches, tiny cafes, and pastel-coloured houses.

2. 

Zagori villages
Burrowed in the crags of the Tymfi mountain range, Zagoria is a cluster of villages that are framed by pine forests, turquoise lakes, and gorges. With their feet firmly planted in tradition, the architecture is uniquely built from local stone, wood, and slate rock. Delve into the Greece of yesteryear around the tightly-knit streets and dip into taverns, cafes, and shops.
3. 

Dodoni
Cradled in a narrow valley on the emerald slopes of Mount Tomaros, you can walk in the footsteps of mighty civilizations in this antique city. Explore the remains of the impressive ancient theatre, where the Greeks honoured Zeus with performance and games, whilst gladiators fought beasts during the Roman era.
4. 

Arta
Every Greek knows the legend of the bridge of Arta, which is the focal point of a popular dark folk tale. This town links legend and history together, studded with monuments that tell the stories of countless empires. From Byzantine churches to medieval-style castles, history buffs get your camera ready.

5. 

Vikos Gorge
One of the deepest gorges in the world, this UNESCO-stamped landscape looks like it belongs on the cover of a glossy nature magazine. Pack your hiking shoes and wander through a mix of thick, moss-covered forests, lush meadows, forested alpine valleys, high stone peaks, and rocky riverbeds.
6. 

Sivota
This laid-back village gives the Caribbean a run for its money with its lacy shores, luscious green islets, and long beaches. Age-old limestone houses shelve on the bougainvillea-lined cobbled streets, leading to a tiny harbour where fishermen gather each morning to sell their catch of the day.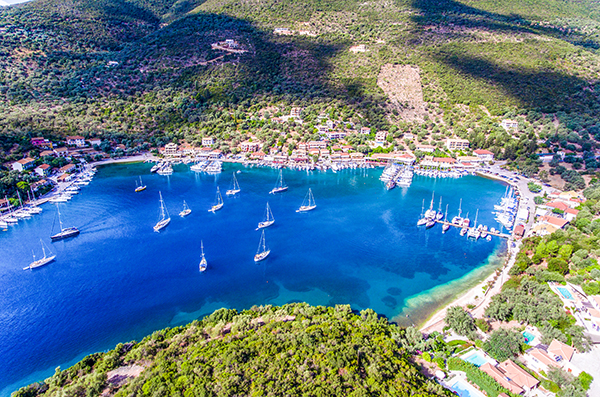 7. 

Metsovo
Pretty and peaceful, backed by the Pindos Mountains, this charming Vlach village is a living museum of Greek tradition. Soak up the laid-back way of life in the main square, framed with quaint markets and shops selling handicrafts, pungent cheeses, and local wines. Delve into the region's history at the Folklore Museum, where you can learn all about the region's once-thriving tapestry and weaving industries.

8. 

Parga Castle
Once the focus of a tug of war between the Venetians and Ottomans, centuries of turbulent history have turned Parga Castle into an aromatic ruin facing the sea. Dominating the town from its scenic rocky outcrop position, you can spend hours staring out at the sweeping views over the rainbow-painted town of Parga.
9. 

Hit up the Beaches
Postcard-worthy beaches come as standard on this stretch of mainland Greece, with chalk-white sands and pebbled plots set against olive groves and countryside. From rugged bays and hidden inlets around Sivota, a buzz of beach bars in Monolithi Beach to pretty pebbled coves in Parga - wherever you lay your towel you won't be disappointed.
10. 

Preveza
Nestled on the Ambracian Gulf, imagine thousands of years of ancient history paired with some jaw-dropping natural scenery. Its pastel-coloured houses stack on top of each other like sugar cubes, gently shelving towards the rolling coastline. Circled with local restaurants, open-air cafes, stylish bars, and festivals during the summertime, the main square is buzzing with activity.
We have a fantastic selection of handpicked villas along the Ionian Coast - all with a private pool and many boasting sumptuous views over the surrounding postcard-worthy villages and sparkling Ionian Sea. Start your search today!