Cyprus Cuisine: 5 dishes you have to try
Eat Like a Local in Cyprus!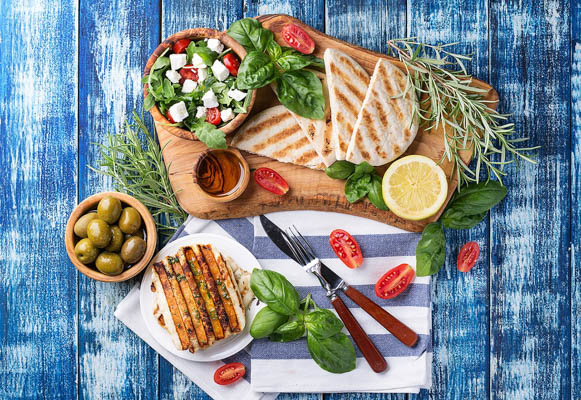 One of our favourite things to do on holiday is to sample the local cuisine, and if you're heading to Cyprus you're in luck when it comes to food! With origins spanning the Middle East, Turkey and Greece, Cypriot cuisine tends to be bursting with freshness and flavour. Take a look at the dishes you must try while holidaying in Cyprus…
Koupepia
Traditional Cypriot dining tends to consist of appetisers and salads, main dishes and then deserts. Meze plates are a great way to sample a bit of everything and they tend to include small dishes such as grilled octopus, olives, breads and grilled cheeses.
One of our favourite Meze plate dishes, or an appetiser in its own right is koupepia, which are vine leaves stuffed with rice and minced meat, typically a mixture of lamb and pork. They might not look pretty but one is never enough!
Souvla
A popular dish in Protaras, and in fact all over Cyprus, Souvla is large pieces of meat cooked over a charcoal barbeque on a long skewer. Traditional Souvla can be made with lamb, pork and chicken, which is skewered and placed high above the coal and cooked for a long period of time until just before serving when it can be moved lower and cooked further until the meat is golden brown in colour.
95% of our villas offer barbeque facilities, so why not try this one for yourself! Serve with salad, fried pitta bread and halloumi, the national cheese of Cyprus.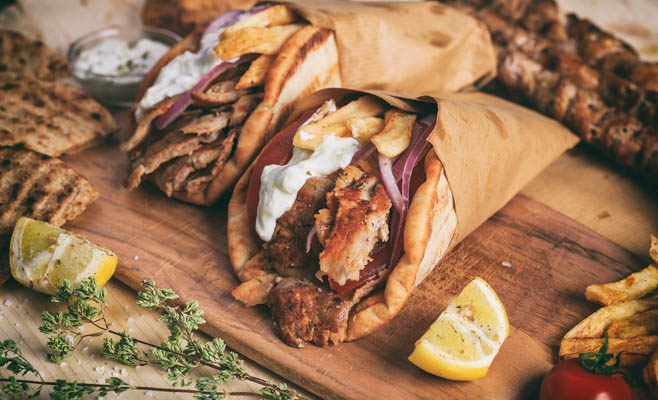 Mousaka
Mousaka is a staple dish on all Cypriot menus, and this delicious delicacy is also popular in Greece and Turkey. Made with aubergine, lamb and mushrooms, Mousaka is layered with potatoes, béchamel sauce and of course, plenty of local cheese!
This dish takes about an hour to cook in the oven, but the good news is that it is delicious warm or cold – so you can always eat the leftovers for lunch the next day and maximise your sun lounger time!
Kleftiko
The translation of 'kleftiko' is stolen meat, as legend has it this dish was created by thieves who stole a goat and cooked it covered in the ground in improvised ovens, so as to mask the smell and smoke. The meat tasted so good this innovative cooking method has been adapted and is still used to prepare this delicious delicacy.
Modern day Kleftiko is usually made using a lamb's leg and cooked for up to 24 hours in a clay oven while it marinates in a mixture of lemon juice and cinnamon. This dish can also be baked in the oven. Kleftiko is usually served with potatoes baked in the same oven and flavoured with the lemon marinade.
Loukoumi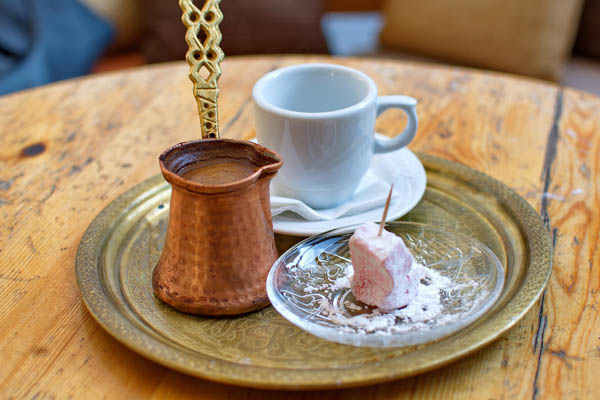 Desert is also a big part of Cypriot dining so make sure you leave room for something sweet! Highlighting the fusion of culinary heritage, loukoumi is known as Turkish delight and is made in the village of Yeroskipou, east of Paphos.
Loukoumi is still manufactured in the same way it was over a century ago and continues to include the staple ingredients of sugar, water, flour and starch. You can buy loukoumi in a variety of flavours all over the island.
Staying In?
Unleash your inner chef and make the most of our stunning al fresco dining areas during your stay.
While most local supermarkets will provide all the ingredients you would need to create your own Cypriot feast, we don't think you can beat heading to a local market to soak up the culture! In the nearby village of Dherynia head to the open air Farmer's Market which opens up at 7am every Saturday.
While cooking up your feast, don't forget to enjoy the local tipple! Try making the exclusively Cypriot cocktail Brandy Sour! Simply mix 3 dashes of Angostura bitters, 1 shot of Cyprus brandy, 1 shot of lemon juice and soda water. Make sure you add lots of ice and sprig of fresh mint to garnish!
Going Out?
Feel like heading out? Many of Cyprus' holiday resorts are home to a range of different restaurants including many traditional style Cypriot taverns. Make sure you also stop by at one of the many cafes or bakeries for beautiful traditional Cypriot coffee and cakes!